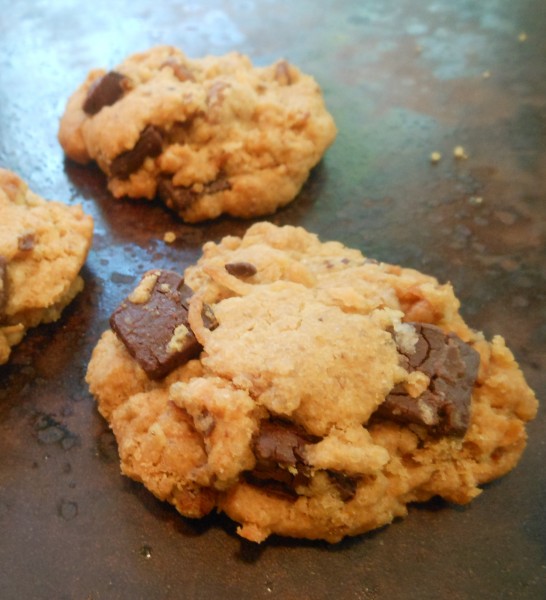 Yield: approximately 3 dozen cookies
In my go to chocolate chip cookies, I like a blend of vegan butter and vegetable shortening for the best of both worlds.  Craving cookies, but with no shortening, I decided to substitute coconut oil (solid at room temperature) and oh, boy, those of us who haven't been baking cookies with coconut oil have been missing out!  The resulting cookie has the most delectable crispy-crumbly-tender texture imaginable, but they don't fall apart, no sirree!  They are perfection in every way.
The coconut oil imparts to the cookies a very subtle hint of coconut flavor, that will make coconut lovers swoon; but not so much that the coconut averse would object.  However, we love coconut in this house, so I decided to add some toasted coconut instead of nuts and the result was addicting and just as comforting as old-style chocolate chip cookies.  However, feel free to load them up with the chips, nuts, and dried fruit of your choice.
1/2 cup butter
1/2 cup coconut oil
1 1/2 cups demerara sugar (or lightly packed light brown sugar)
1 tablespoon baking powder
1 1/2 teaspooons baking soda
1/8 teaspoon sea salt
1 3/4 cups unbleached all-purpose flour (I use white whole wheat)
10 ounces vegan dark chocolate chunks or chips (most organic brands are vegan; check the label)
1 1/2 cups lightly toasted coconut
Preheat oven to 350 degrees and line two baking sheets with silicon mats or parchment paper.  With an electric mixer, beat together butter and coconut oil until creamy.  Add sugar and continue beating until fluffy, scraping down sides of bowl as necessary.  (Note: if using dmerara sugar, because of the larger crystals, they will not dissolve completely.)  Add baking powder, soda, sea salt and one-third of flour, mixing on low speed just until combined.  Add remaining flour in two parts, continuing to mix on low speed, scraping down sides of bowl as necessary.  Add chocolate chunks and coconut and mix just until combined.  Drop by generous rounded tablespoons onto baking sheets, using dampened fingers to gently flatten the tops of the cookies.  Bake 9 to 11 minutes, rotating pans after 5.  Cool pans on wire racks.