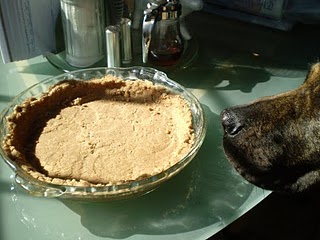 Yield: one 8-9 inch crust
This is my go-to, never-fail pie or tartlet crust. Just ask Minnie…she "nose." I like its somewhat rustic appearance, not to mention its simplicity, but if you prefer something more refined, you might want to opt for a roll-out crust, though you can make this one quite neat and precise.
1 1/2 cups unbleached all-purpose or whole wheat flour (or a combination)
1 teaspoon salt
2 teaspoons sugar
1/2 cup oil
2 tablespoons unsweetened or plain soy milk
Place dry ingredients in an 8-9 inch pie plate. Pour the oil and milk over the dry ingredients and work around with a fork and/or fingers until all of the liquid is absorbed. Press the crust firmly into the bottom and sides of the pie plate. The bottom and side of a glass work nicely for this task. Bake crust according to directions for whatever recipe you are making. Tartlet Crusts: this recipe, made with whole wheat flour, yielded beautiful, sturdy 4 inch tartlet crusts that held up even when removed from the tart pans and slid off the removable bottoms. I baked them 10-12 minutes before filling. Sweet Pie Crust: Increase sugar to 2-3 tablespoons or to taste.
Source: http://www.steptalk.org/