Yield: 8 to 12 servings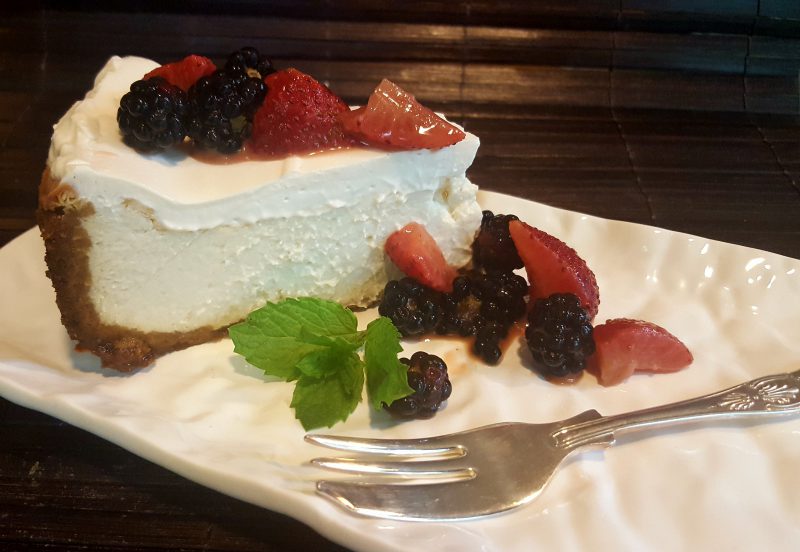 I have loved baking–and now vegan baking–for as long as I can remember:  both the art and the science of it.  Experimentation and solving culinary puzzles have kept the excitement in the relationship.
This New York Style cheesecake represents a veganization triumph.  I think my mother–who considered her dairy-based recipe the iconic version, the one to which all others were compared–would be proud.  Or maybe, like the omnivorous Bob, she would say, "Not bad."  Though I don't think so.
Please note two things: 1) while I love demerera, coconut and other less-processed sugars as much as the next gal, this recipe needs white granulated sugar for it's pure color and clean taste; and 2) I use coconut cream in this recipe and can't detect a pronounced coconut flavor, but feel free to substitute a non-dairy creamer of your choice.
Crust:
4 cups whole vegan gingersnap cookies (the crispy/crunchy kind), shortbread cookies, or graham crackers broken into cookie-sized pieces
1/2 cup nuts (pecans, almonds, etc.) or another 1/2 cup cookies; graham crackers
Optional: 1/4 cup granulated sugar
1/2 cup vegan butter, melted
Pulse cookies or graham crackers in a food processor until coarse crumbs are formed.  Add optional nuts and sugar and continue pulsing until finer crumbs are formed.  Drizzle in butter and pulse just until moist crumbs are formed.  Distribute mixture into the bottom of an 8- or 9-inch springform pan and press evenly onto the bottom and 2 inches up the sides of the pan.  Freeze while you prepare filling.
Filling:
14 ounces firm tofu, drained
16 ounces vegan cream cheese (I use Tofutti brand)
1 cup granulated organic white sugar
3 tablespoons cornstarch
1 cup thick coconut milk (I use So Delicious Culinary Coconut Cream purchased at Whole Foods)
Juice of 1/2 to 1 whole large lemon (taste after adding 1/2)
1 teaspoon vanilla extract
1 teaspoon almond extract
Topping:
16 ounces or 2 cups vegan sour cream
1/4 cup organic white sugar
1/2 teaspoon vanilla extract
1/2 teaspoon almond extract
Garnish:
Fresh chopped fruit or berries, macerated in sugar and liqueur (like Bailey's Almande) or not; the dessert sauce of your choice (e.g. chocolate, salted caramel, etc.); and fresh mint sprigs
Preheat oven to 325 degrees.  Rinse and wipe out bowl of food processor.  Process tofu and cream cheese until smooth.  Add all remaining filling ingredients and continue processing until creamy and silky smooth.  Pour into frozen crust and gently smooth top.  Place cheesecake on a baking sheet and bake for 1 hour and 20 to 30 minutes or until set, very lightly browned around edges, and slightly jiggly only in the very center.  During last five minutes of baking, whisk together topping ingredients in a medium bowl until completely combined.  Turn off oven, slide out oven rack, gently spoon topping over cheesecake and seal to edges, and slide rack back in.  Open oven door halfway, and allow cheesecake to cool completely in the oven to avoid cracking and sinking, which will take about 3 hours.  Chill for an hour, uncovered, and then chill for at least another hour, covered.  (This will prevent condensation from dripping on surface of cheesecake.)  When ready to serve, run a knife around the edge of the cheesecake, remove it from the pan and place it on a serving platter.  Serve in slices garnished as desired.