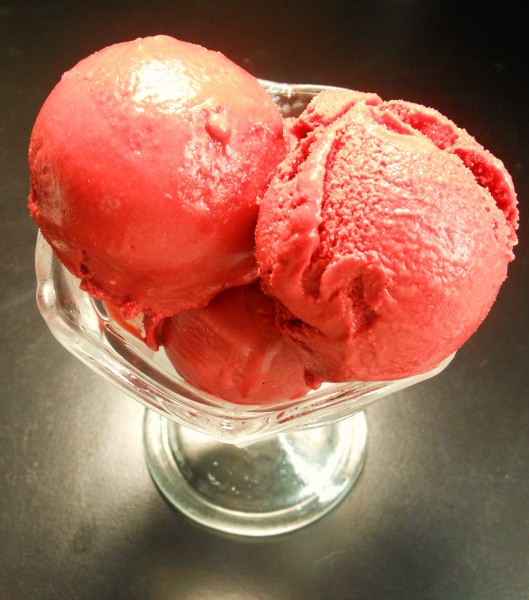 Yield: 1 1/2 quarts
My all-time favorite cake now as vegan ice cream!
So, move over Duff Goldman and Blue Bunny brand…there's a new Red Velvet Ice Cream in town!
Red Velvet is the signature cake of my Aunt Bessie of Dallas, TX.  She honestly makes one like no other.  It was, in fact, the recipe used for the groom's cake at Joe's and my wedding.
After veganizing Aunt Bessie's recipe so that I could still partake, I have gone on to create recipes for vegan Red Velvet Pancakes, whoopie pies, shortbread cookies, and more, but never ice cream.  Never, that is, until now!
Several years ago, Ben and Jerry's was running a competition for the next great ice cream flavor and I decided to enter with Red Velvet.  Contestants had to submit a video, so a friend came over and shot it, but then she encountered technical difficulties and, alas, I was unable to submit it.  Since then, Red Velvet ice cream has been made available commercially, but not in a vegan version, at least not where we live.  Recently, I got a powerful craving for it and set out to recreate that inimitable cake flavor in an ice cream.
And, oh my goodness, my recipe really does taste like the cake!  My secret?  Tofutti Better than Cream Cheese as a substitution for the buttermilk in my aunt's recipe–tangy but with the kind of body one wants in an ice cream.  And, are you ready?  Vinegar!  My aunt's recipe calls for 1 tablespoon of white vinegar that lends to the cake its signature flavor.  And the same is true for the ice cream.  I add it while churning so as not to curdle the custard.
This beautiful concoction really does take the cake!
Thanks to Tofutti for posting it on their website!  Just click HERE for the quick and easy recipe.