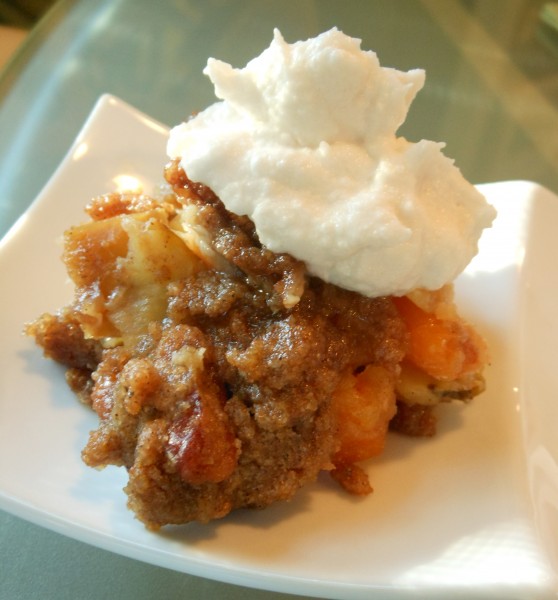 Yield: 8 servings (easily halves)
My fellow vegan cookbook author friend, the gifted and generous Bryanna Clark Grogan, mentioned making an apple crisp to take to a friend–along with a lasagna!–in a recent email.  I told her that I rarely allow myself to make crisps, cobblers and such, as I don't know when to stop eating them.  They just go down so easily with their tender filling and crunchy topping.
But, alas, she "planted the seed" and I couldn't resist, especially since I had all of the ingredients on hand, and since Hurricane Sandy was pelting our coast at the time making venturing outside unappealing at best.  I had inadvertently neglected to post it back then, but decided to now, as I think it would make a beautiful and welcome addition to your holiday table.
Lately I've seen several recipes for chai-flavored this and that, which sounded perfect for this cool and drizzly day.  So, I decided that my Crisp's streusel-like topping would be infused with all of those warm chai spices, including the somewhat surprising black pepper.  I found my ratio of spices quite delectable, but feel free to experiment, as proportions vary widely, at least in the recipes I consulted, so that I ultimately decided to create my own.
Wow!  The aroma in our kitchen was particularly inviting!  I think you'll love the tanginess and slight chewiness of the dried apricots playing off of the otherwise creamy and sweet–but not too sweet–apple and pear filling.  And the gentle heat of the black pepper is perfect in the mix.
Enjoy with vegan vanilla ice cream or your favorite vegan whipped "cream"!  I would love for you to try my "invention" of Vegan Whipped "Cream" published in November by VegNews (thanks VN food editors!).  It is unlike anything else I've seen published in print or online.  Very exciting…and you will love it.  Just be sure to "whip it good"!  (Bryanna was my co-tester for this recipe and when she gives something a "thumb's up," you KNOW it's the best.)
I hope you have the bloomin' best holiday ever!
2 tablespoons olive oil (you may substitute vegan butter, but there is a fair amount of vegan butter in the topping)
2 large apples (any sweet-tart variety recommended for cooking), stemmed, cored, and cut into 1/2 to 3/4-inch pieces
2 small pears, stemmed, cored, and cut into 1/2 to 3/4-inch pieces
1/4 cup natural sugar
1 tablespoon + 1 teaspoon fresh lemon juice
Pinch of sea salt
1/2 cup chopped dried apricots (about a 1/4-inch dice)
1/4 cup unbleached all-purpose flour
Chai-Scented Streusel Topping (recipe follows)
Accompaniments: vegan vanilla ice cream or vegan whipped "cream"
Oil 8 1/2-cup ramekins, place them on a baking sheet, and set aside.  Preheat oven to 350 degrees.  In a large cast iron skillet set over medium-high, heat olive oil to shimmering.  Add apples, pears, sugar, lemon juice, and a pinch of salt.  Saute, stirring frequently, for about 3 minutes, or until tender and just starting to break down.  Add apricots and cook, stirring, one minute more.  Turn off the heat and stir in flour just until well-incorporated.  Divide the  mixture evenly among ramekins and top with Chai-Scented Streusel by breaking it into small moist clumps almost completely covering the top surface of the filling.  Place the tray of filled ramekins on the center rack of the oven and bake for 20 minutes or until filling is bubbly and streusel is golden brown.  Remove the pan from the oven and cool 5 to 10 minutes before serving accompanied by ice cream or whipped "cream."
For the Chai-Scented Streusel Topping:
3/4 cup unbleached all purpose flour
Optional: 1/2 cup old fashioned oats (I didn't have any or I would have added)
2 teaspoons ground cardamom
2 teaspoons ground cinnamon
2 teaspoons ground ginger
1/2 teaspoon ground allspice
1/2 teaspoon ground nutmeg
1/4 teaspoon ground cloves
1/4 teaspoon ground black pepper
1/2 cup natural sugar
1/2 cup pecan pieces
1/2 cup vegan butter
Combine all dry ingredients in a medium-size bowl.  Break butter into pieces and work into dry ingredients with your fingers until well-combined.  Avoid over-working or butter will melt from the heat of your hands.