In celebration of the first day of the first full week of Vegan MoFo 2011, I wanted to offer a cookbook giveaway for all you MoFos out there.   On the block is my brand new cookbook, The Blooming Platter Cookbook: A Harvest of Seasonal Vegan Recipes, published in May 2011 by the good folks at Vegan Heritage Press.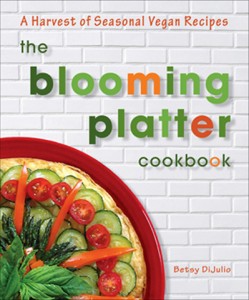 It's simple to enter!  Just add a comment to this post on one of two topics: 1) either share how you "MoFo" (do you blog, subscribe to MoFo headquarters rss feed, read more blogs than usual, cook more than usual, etc.); or 2) share your favorite way to enjoy apples in the fall.
I'd also love it if you checked out the book on Amazon, read one or two of the very generous reviews and, if you like what you see, "like" the book while on the Amazon site.
A winner will be chosen at random (using www.random.org–very cool site), next Sunday, October 9.  Deadline to enter is midnight (wherever you are in the world), Saturday, October 8.  Make sure your email address is accessible through your comment.  The winner will be notified privately via email to provide me with your mailing address.
A quick note: I will respond to the comments at the end of the contest because if I respond as I receive them, it will throw the numbers off for the random calculation of a winner.  So, I want you to know in advance that I appreciate you, and don't want you to think I am being rude by not acknowledging your time and effort!
That's all there is to it!  Please spread the word.  But first, check out this sneak preview recipe from The Blooming Platter Cookbook.  I love re-imagining one dish as another, and my Baked Apples Baklava is a perfect and perfectly tasty example of that.  And, though the presentation is elegant, the recipe is as simple as can be, provided you purchase the phyllo dough.  If you decide to be an over-achiever and make your own, that's on you!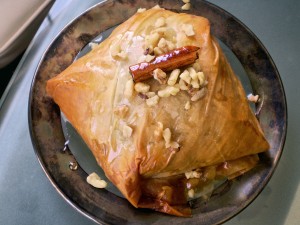 Baked Apples Baklava with Cider Sauce
Yield: 4 servings
Baked apples are one of the wonders of autumn. In this dessert, tender stuffed apple halves are wrapped up like a beautiful package in buttery phyllo dough. They are as scrumptious for breakfast or brunch as they are for dessert.
Apples:
1/2 cup finely chopped walnuts
1 tablespoon natural sugar
1/4 teaspoon apple pie spice
2 teaspoons agave nectar
2 large McIntosh or other sweet-tart red apples, stemmed
Juice of one lemon
1/4 cup vegan butter
1/4 cup olive oil
1 teaspoon natural sugar
16 sheets phyllo dough, thawed
Cider Sauce:
3/4 cup apple cider
3/4 cup sugar
1/2 cup agave nectar
1 tablespoon lemon juice
1 cinnamon stick, halved
Optional Garnish:
Cinnamon stick halves
Walnut pieces
1. Apples: Preheat the oven to 350ºF. In a small bowl, combine the walnuts, sugar, apple pie spice, and agave nectar and set aside. Cut the apples in half lengthwise.  Using a melon baller, remove the core of the apples in two scoops to make a generous void for the filling. Rub the cut surface of the apples with lemon juice. Press one-fourth of walnut filling into each hollowed out void.
2. Combine the vegan butter and olive oil in a small bowl. Unroll the phyllo dough and cover with plastic wrap and a damp towel. Remove one sheet of dough to a flat work surface and brush lightly with butter-oil mixture. Repeat with three more sheets, stacking them.
3. Place the apple half, filling side up, in the center of the stacked phyllo. Bring up one corner of the dough over the filling, then the opposite corner. Repeat with the remaining corners, smoothing as you go, to make a tight package.
4. Brush on a little more butter-oil mixture and place the apples, flat side down, on a baking sheet or stone. Brush the top with a little more of the butter-oil mixture, smoothing down the edges of the dough. Repeat with remaining apple halves, filling and dough. Sprinkle each with 1/4 teaspoon of sugar. Bake for 30 minutes.
5. Cider Sauce: In a 1 quart saucepan, combine all ingredients. Bring to a boil, reduce heat to medium and simmer 15 minutes. Cool slightly to serve. Remove the cinnamon stick halves before serving or use them as two of the garnishes.
6. To assemble: Arrange the baked apples on dessert plates drizzled with the Cider Sauce and garnished with cinnamon sticks and walnuts, if using.