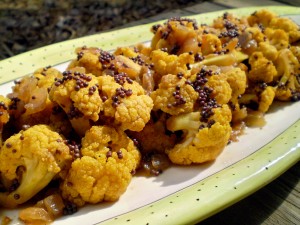 Note: I inadvertently skipped yesterday in my Crash the Superbowl Snack Recipe countdown, so I will make up for it by posting two today.  Sorry about that!
Yield: 4 servings
Okay, I admit it: Indian dishes aren't the first thing that pops into my mind when I think of the Superbowl.
But someone recently singled out this photo from my album of Blooming Platter Cookbook winter dishes on Facebook and I was reminded of how pretty it is.  But I was also reminded of a Christmas Eve party that my family has attended for many years.  Annually on the menu is a huge bowl of marinated cauliflower, rings of fresh onion, black olives and shrimp (which I avoid) served with toothpicks.  Everyone always enjoyed it and it was fun to eat.
So it occurred to me, though it's not your standard Superbowl fare, that a big platter of my Indian Cauliflower set out with toothpicks would easily serve and satisfy a crowd.  It is fragrant, simple and delicious. Try using orange cauliflower when making the recipe; it tastes the same as white and it looks beautiful with the black mustard seeds (see photo).
2 tablespoons olive oil, divided
1 cup chopped onion
1 head white or orange cauliflower, cut into small florets
2 teaspoons ground coriander
1/2 teaspoon ground turmeric
Sea salt and freshly ground black pepper
1/2 cup water
1 tablespoon vegan butter
1 tablespoon black mustard seeds
1/4 cup chopped fresh cilantro, optional
1.  Heat 1 tablespoon of the oil in a large skillet over medium-high heat. Add the onion and cook, stirring frequently, until golden. Add the cauliflower, coriander, turmeric, and salt and pepper to taste. Cook for 2 to 3 minutes. Add the water and simmer until the cauliflower is tender and most of the water is absorbed, 3 to 5 minutes.
2. In a small skillet over medium-high heat, melt butter with the remaining 1 tablespoon olive oil. Add the mustard seeds and cook for 2 minutes.
3. To serve, transfer the cauliflower to a serving platter, drizzle with the mustard seed mixture and sprinkle with cilantro, if using. Serve hot (or room temperature).