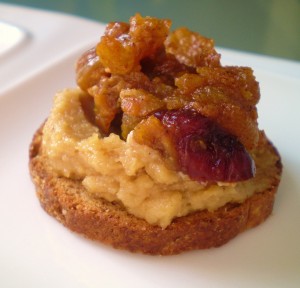 I did it again: missed a day yesterday in my "Crash the Superbowl Snack Recipe."  Darn it.  It was a really busy day, but that's no excuse.  So, I owe you two today.
Let's start with one of the recipes I intended to post a while back when I mentioned having been invited to present a program, complete with samples, on The Blooming Platter Cookbook for Alpha Rho, the educational sorority to which I belong.
I love this combination of rich cashew cheese (featuring my secret "cheesy" ingredient!) and tangy sweet-and-savory chutney.  The pairing is perfect perched on a cracker but, after the meeting and some errands, I was starved, so I came home and made a grilled cheese-and-chutney sandwich on super-thin Danish rye bread.  Oh, my…
My recommendation is to make the Vegan Cheddar Cheese Spread first so that it can be chilling while you make the chutney.
Next, make the chutney.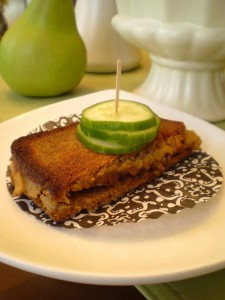 Fresh Pear and Dried Cranberry Chutney
Yield: 4-5 cups
1 tablespoon olive oil
1/2 of a red onion, cut into 1/4-inch dice
2-3 large cloves of garlic, minced
3 Asian pears, stemmed, cored, and coarsely chopped in a food processor (I've only every seen Asian pears in one size and that's large!  About the size of a small grapefruit.)
1/3 cup apple cider vinegar
1/3 cup natural sugar
1/4 cup catsup
2 teaspoons paprika
1 teaspoon ground allspice
1 teaspoon coriander
1 teaspoon cumin
1 teaspoon turmeric
1/2 teaspoon chipotle chili powder
1 1/3 cups dried cranberries
Sea salt and freshly ground black pepper to taste
2 tablespoons minced fresh rosemary or to taste
In a large cast iron skillet over medium-high, heat olive oil.  Add onion and saute, stirring occasionally, for about 3 minutes or until softened.  Add garlic and continue to saute and stir for about 30 seconds.  Add pears and saute, stirring frequently, for another 5 minutes or so, or until pears release juices and begin to cook down.  Add all remaining ingredients and cook, stirring occasionally, for about 20 minutes or until the mixture has reached the desired consistency.  Stir in rosemary and cook and stir for another minute.  Remove the skillet from the heat and allow the mixture to cool to room temperature.  Store in an airtight container in the refrigerator.  Serve chilled or at room temperature with crackers or crostini.
Note: To make a Grilled Cheese-and-Chutney Sandwich, melt about 1 tablespoon of vegan butter in a skillet over medium-high heat.  While butter melts, spread one piece of bread first with the cheese and then with a layer of chutney.  Cover with a second piece of bread and grill for a minute or two on each side or until golden brown.