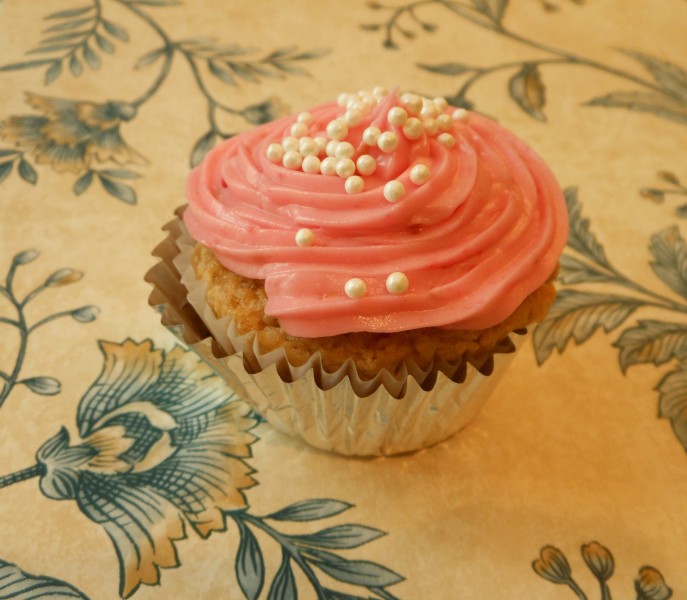 Yield: enough to generously frost 12 regular cupcakes or a single-layer cake
School started on Monday with an in-service week for teachers, so I made these beauties for a few of my teacher friends to wish them a "sweet" start to a new school year.
What a hit they were!  One teacher wanted the recipe, one said they were "three minutes of uninterrupted heaven," another sent me a text saying, "Awesome cupcake," and still another said he was quite sure it was the best cupcake he had ever eaten!  And, by the way, all of these teachers are omnivores.
What makes them so special?  Well, the vanilla cupcakes from Isa Chandra Moskowitz's Vegan Cupcakes Take Over the World are darn good.  But the cupcake-frosting combination is out of this world.  Truly, it was the frosting that sent everyone over the moon: fresh raspberries that I marinated in champagne!  Actually, they were from a sangria recipe I created with Prosecco (I was testing a recipe for a major project that, fingers crossed, will come to fruition).  But, for the purpose of recreating the frosting without having to make sangria first, I figured out the correct proportion of Prosecco and sugar.  The flavor is bursting with berry freshness and a little tangy zip, but there is a subtle depth and complexity about it too.
These cupcakes are pretty enough for a wedding, but it would be a shame to save them for such rare occasions.  Bake up a batch and make any day special!
1/2 cup sparkling wine (I use Prosecco, but champagne would be lovely too)
3 tablespoons natural sugar
1 cup fresh raspberries
2 tablespoons vegan butter
2 tablespoons vegetable shortening
2 tablespoons vegan cream cheese
5 1/2 cups powdered sugar
1 teaspoon vanilla
The day before you plan to make the frosting, marinate the berries: in a small bowl, dissolve sugar in the sparkling wine, add berries, stir well, cover, and refrigerate for 24 hours.  To make frosting, cream butter, shortening, and cream cheese with an electric mixer until fluffy.  Add the powdered sugar, a cup at a time, starting the mixer on slow and gradually increasing the speed so that you don't coat yourself in sugar.  After you've added about 2 cups of the sugar, drain berries and add all of them with another cup of sugar, beating well.  Don't be alarmed if mixture looks curdled; it will smooth out as the remaining sugar is added.  Continue beating and adding remaining sugar and vanilla until the frosting is thick and creamy.  You may find that you need more or less of the sugar in the marinade, as well as in the frosting, depending on how sweet and moist the berries are, respectively.  So adjust as you see fit.  Use the frosting immediately or refrigerate until ready to use.  I like to pipe swirls of frosting on top of the cupcakes using a pastry bag before garnishing with white nonpareil pearls for a very feminine look (I purchase the pearls at our local Kroger).  However, a fresh raspberry perched on top , perhaps with a mint leaf, would also be lovely.
Note: I recently saw some Oreos (they're vegan in the U.S.!) with a berry filling!  So pretty in pink.  I'm thinking that the frosting would be absolutely scrumptious between two chocolate wafer cookies, no?