Based on Actor's Studio host's James Lipton's famous "Q & A"–after the Proust Questionnaire–"Vegan Q & A Tuesday" is The Blooming Platter's new first Tuesday feature on a creative force in the vegan culinary world.  Read more about "Q & A Tuesday" HERE.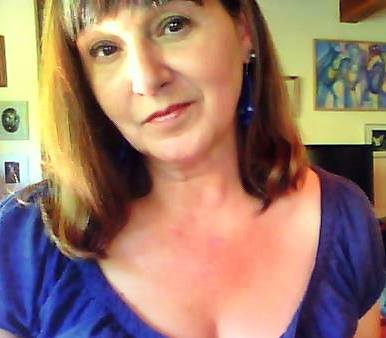 Featured Force: 
Bryanna Clark Grogan
(See below for Bryanna's Indian-Spiced Lentil Salad recipe.)
Vegan since 1988, author World Vegan Feast & 7 more vegan cookbooks, Bryanna has devoted over 40 years to the study of cooking & nutrition.  She developed the recipes for Dr. Neal Barnard's Program for Reversing Diabetes, & contributed recipes to Howard Lyman's No More Bull! & Cooking with PETA. She has appeared at Vegetarian SummerFest, Vegetarian Awakening, Portland VegFest, McDougall Celebrity Chef Weekend, VidaVeganCon, & Seattle VegFest. She also runs a small library branch and likes to bellydance & read mysteries. She lives on Denman Is., Bc, Canada, with her photographer/baker husband Brian, dog Phoebe, & cats Ringo & Sadie. She has 4 grown kids, 2 stepsons and 7 grandchildren.
 1.  What is your favorite culinary word?
It would have to be "Umami"– the Japanese word for "The Fifth Flavor", which means, more or less, "the essence of deliciousness".  Isn't that wonderful?
2.  What is your least favorite culinary word?
"Superfood"—there are no "superfoods"!  It's a marketing ploy. 
3.  What about cooking turns you on?
I think part of it is the creativity and inventiveness, which often leads to a wonderful dish or meal. Sometimes I wake up thinking about some idea for a dish that I want to make. One can compare it to painting, but we cooks can enjoy eating our creations!  There is also the mystery—how will it turn out?  Will it live up to expectations?  And, in addition, there is the pleasure of discovery—learning the science of cooking, how ingredients work together, what methods improve the result, etc.
4.  What about cooking turns you off?
Hmmmm… that's a tough one.  The clean-up, perhaps?
5.  What cooking or dining sound or noise do you love?
There are many. The "snap" of breaking celery or snap peas; the sizzle of breaded marinated tofu sliding into hot olive oil; knife on wooden cutting board as one chops onions, etc.; the "glug" of wine being poured into a sauce; the quiet clinking of dining utensils during a lull in the dinner conversation, when guests are enjoying their food so much that they cease to converse.
6.  What cooking or dining sound or noise do you hate?
Slurping!
7.  What makes you curse in the kitchen?
Cutting myself; spilling something messy, such as oil or tomato sauce; finding out I turned on the wrong burner; burning something.
8.  What cooking profession other than your own would you like to attempt?
Rather than being a cookbook writer, from the limited amount of teaching workshops I've done, it might be very satisfying to be a cooking teacher.
9.  What cooking profession would you not like to do?
I would not like to do anything that entailed making the same thing, or few things, over and over.
10.  If heaven exists, what would you like to hear God say when you arrive at the pearly gates?
"One of the perks here is that you can have anything you like to eat, you won't get fat, and you can have full access to the Heavenly Kitchens, if you like."
Bryanna's Indian-Spiced Lentil Salad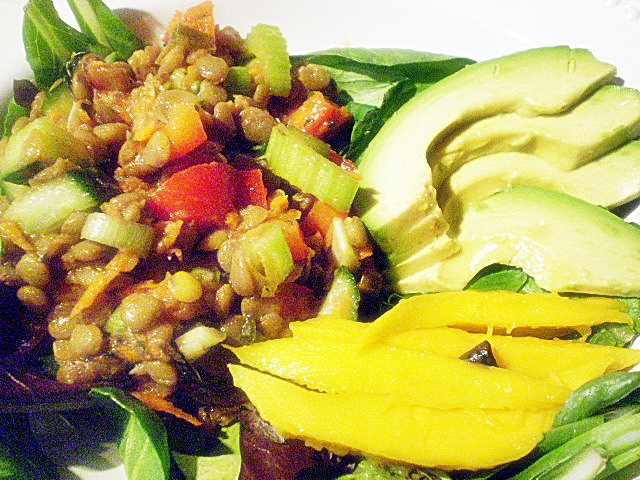 Serves 6
 5 1/2 to 6 cups cooked or canned brown lentils, drained (or 2 cups dried)
4 small carrots, peeled and grated
6 large green onions, chopped
3 stalks celery, with leaves, chopped
1 red bell pepper, seeded and diced
1 medium cucumber, diced (I use the English type that you don't have to peel)
DRESSING:
1 cup Mango Salsa (see homemade recipe and notes below recipe)
3/4 cup Low-Fat Oil Substitute for Salad Dressings or broth from cooking chickpeas
6 tablespoons olive oil
1/3 cup cider vinegar
1/4 cup fresh lemon juice
1 1/2 tablespoons brown sugar
1 tablespoon dried mint leaves (or 3 tablespoons fresh, chopped)
1 tablespoon dried cilantro leaves (or 3 tablespoons fresh, chopped)
2 teaspoons tandoor masala
1 teaspoon salt
 If you are starting with dried lentils (which do not need pre-soaking):
Pick over the lentils to remove debris or shriveled lentils, rinse, and drain. Cover with water or broth and boil for 2 to 3 minutes (to aid in digestion). Reduce the heat and simmer gently, covered, until tender. Depending on the variety and age, cooking time may take anywhere from 10 minutes to 1 hour.  They should be tender, but firm, so do not overcook them or let them get mushy.  Drain them well (handling gently) and cool completely, then measure out.
To make the salad:
Combine the first 6 ingredients carefully in a salad bowl.
Whisk the Dressing ingredients together well, or mix them briefly in a blender or with a hand immersion/stick blender.
Fold the Dressing into the salad. Cover and refrigerate. Try to bring the salad to room temperature before serving.
To serve, I pile it on top of some organic greens and garnish each serving with sliced fresh mango and avocado.
Nutrition (per serving): 397.3 calories; 32% calories from fat; 14.6g total fat; 0.0mg cholesterol; 625.7mg sodium; 1194.7mg potassium; 53.1g carbohydrates; 17.8g fiber; 12.3g sugar; 35.4g net carbs; 18.6g protein; 8.4 points.
EASY MANGO (OR PEACH)-TOMATO SALSA
3 cups diced fully ripened tomatoes, roughly pureed in a food processor or with a hand immersion/stick blender
2 cups diced fresh mango (or use ripe peaches instead)
1/4 sliced green onions
1 tbs minced jalapeno pepper, seeds removed (optional)
2 1/2 tsp. grated fresh ginger or one tsp ground ginger
1 tsp salt
1 1/2 tbs. lime juice
Mix ingredients together well and refrigerate until using in a covered container.
Commercial Mango or Peach and Tomato Salsas:
D.L. Jardine's Peach Salsa
PC [President's Choice, a Canadian brand] Mango and Lime Salsa
Pearson Farm Georgia-Style Peach Salsa
Victoria Fruit Salsa