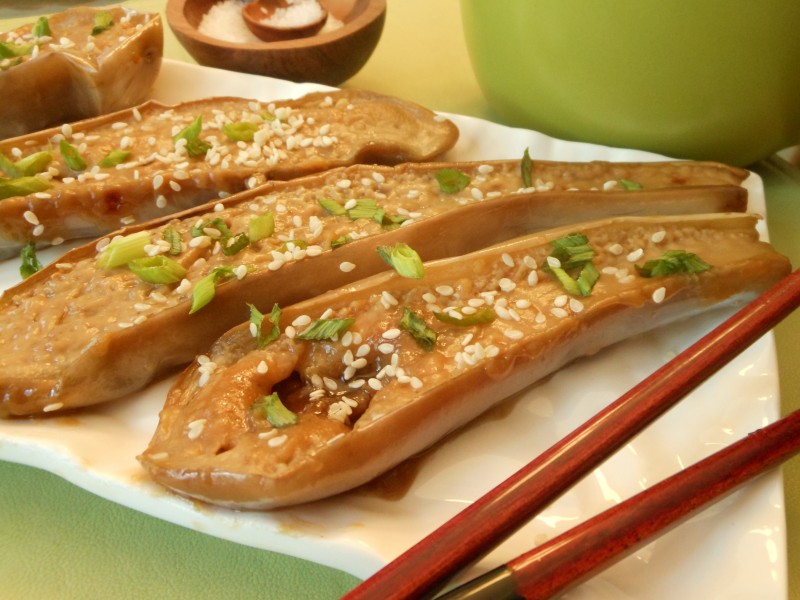 Yield: 4 servings
Our favorite local sushi restaurant (vegan for me!) is Zushi, where Chef Kevin (Asian, despite the name) is not only a master of flavors, but also of exquisite, artful presentation.
We like to choose the Chef's Tasting Menu and let  him delight and surprise us with whatever he is inspired to make from that day's freshest ingredients.  He relishes coming up with vegan dishes for me.  One of my favorites is quie traditional: Nasu Dengaku or long, thin Japanese eggplant, split lengthwise and broiled with a sweet miso glaze, as Kevin has a special way even with the tried and true.
My version is a slight twist on tradition, as I add a hint of soy sauce, no mirin (as this rice wine is similar to sake and seems like a duplication of it) and a hint of ginger.  My version is not terribly sweet, though you may add a bit more agave if you choose.
Really quick and easy–no chopping is involved and the glaze is made while the epplant broils–this dish is lovely enough for a dinner party in its elegant simplicity, but fast enough for a snack.
2 Japanese eggplant, stem ends trimmed, halved lengthwise
2 teaspoons sesame oil
2 tablespoons sake
2 tablespoons light miso (available in Asian markets)
1 tablespoon + 1 teaspoon agave nectar (you may add up to an addition 2 teaspoons for a sweeter glaze
1/2 teaspoon soy sauce (I use a "lite" variety for less sodium)
1/4 teaspoon grated fresh ginger (I use a microplan grater to make quick work of this task)
Garnish: 1 tablespoon sesame seeds + 1 green onion, thinly sliced (I use mostly the green part)
Preheat broiler.  Place eggplant on a baking sheet or in a cast iron skillet (my preference to collect any glaze that runs over the edges of the eggplant.  Make shallow diagonal slits in eggplant about 1-inch apart.  Rub eggplant all over with sesame oil and broil 3 minutes on each side.  While eggplant broils, heat sake in a small cup or bowl for 30 seconds in microwave.  Whisk in miso, agave nectar, soy sauce and ginger until smooth.  Taste and whisk in more agave if desired.  Remove eggplant from oven, spoon 1 tablespoon of glaze atop each half, spreading to cover surface, and return to broiler for 2 minutes.  Remove eggplant to a serving platter and spoon any glaze in the bottom of the skillet over the top.  Sprinkle with sesame seeds and green onion.  Serve immediately or at room temperature.  It is even quite tasty cold!