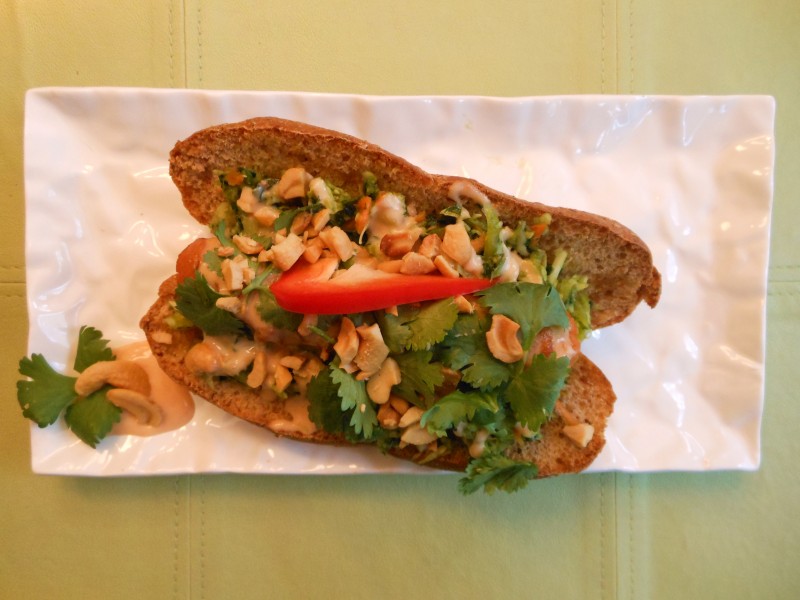 Dear "dog"!   This is surely the best "dog" I've ever eaten, much less made, and it ranks right up there with some of my favorite meals.
Last night, my dear, dear friend, Sharon Clohessy, aka Ms. C–the art specialist for our district–and I went on a beach picnic for two.  She lives at the oceanfront, so we loaded up, walked across Atlantic Avenue (think Monopoly board) up a little path shaded by a canopy of trees, and we were at the wide sandy beach.  
 We love being able to do such "frivolous" things mid-week when school is not in session.  But we enjoyed ourselves so much that we plan to continue right into the fall.  Time spent with Sharon is always magical, and we happened to be at ocean's edge during the "magic hour" when everything takes on a silvery, barely pinkish hue.  I haven't been so relaxed, yet stimulated by our conversation, in a long time. 
For our meal, I was inspired by a food feature in a recent magazine–maybe Southern Living?–about non-traditional hot dogs.  One was Thai and I have been fantasizing about it ever since.  However, I didn't use their recipe, which wasn't vegan anyway, preferring instead to create my own.
I decided on a kale and cabbage slaw (even though kale isn't in season here)–because a day without kale is like a day without sunshine–and a Chili-Lime Mayo, though that name doesn't do it justice, as I also whisked in creamy natural peanut butter and coconut cream.  OMG!  It is out of this world, good enough to eat unaccompanied, as you can see in the photo below.  We topped our dogs with fresh cilantro leaves and chopped cashews.  Truly, this is a stunning rendition of a lowly "dawg."  I ate leftovers for lunch AND dinner today!
Sharon contributed marinated cucumbers, a delicious Cupcake Sauvignon Blanc, and, for dessert, simple pitted cherries and sliced white peaches.  So perfectly simple and elegant.
Even if the beach is far away from wherever you call home, I hope you will "relish" this special dog.
Yield: 4 servings
4 whole wheat hot dog buns, split in half lengthwise not quite all the way through, drizzled with olive oil, and toasted 7 to 8 minutes on a baking sheet at 400 degrees (wrap in foil and keep warm, if desired)
4 of your favorite vegan "not" dogs, grilled (2 minutes on each of 4 sides on an oiled indoor grill pan; adjust time if grilling outdoors; wrap in foil and keep warm if desired)
Asian Kale Slaw (recipe follows)
Chili-Lime Mayo (recipe follows; you will have some left over and you'll be glad!)
4 or more tablespoons cilantro leaves
4 or more tablespoons chopped roasted and lightly salted cashews or peanuts
Place about 1/4 of the slaw on each toasted bun.  Top with a grilled "not" dog.  Add a generous squiggle of the Chili-Lime Mayo, and top with 1/4 each of the cilantro leaves and chopped cashews.  Serve immediately.
Asian Kale Slaw
If I've learned anything about cooking, it is that people's palates vary dramatically.  So, while this balance of flavors tasted perfect to me and my friend, you may want to adjust the sweet-tangy balance, and you should feel free to do exactly that!  Fluffying with a fork is a key step.
2 cups coarsely torn and lightly packed fresh kale
6 leaves ocabbage (I used green cabbage, but use red if you prefer)
1/2 cup 1 1/2-inch carrot pieces, peeled
1/2 of a yellow, orange, or red bell pepper, stemmed and cored, all seeds removed
1/4 cup vegan fish sauce (sold as vegetarian fish sauce in Asian markets)
2 tablespoons natural sugar
1 tablespoon rice wine vinegar 
Pinch sea salt or to taste
You may shred the veggies by hand, but I use the grater attachment of my food processor.  If using a food processor, pack the kale into the tube, turn the machine on, and use the plunger to press the kale firmly and steadly onto the blade.  Repeat with cabbage, tightly rolling two leaves at a time and feeding them into the tube in the same manner.  Repeat with carrots.  Scrape veggies into a medium bowl before repeating with bell pepper, as it may create significant moisture that needs to be drained/blotted.  Add the pepper to the bowl of veggies along with remaining ingredients and toss the mixture with a fork to combine.  Cover and refrigerate until serving time.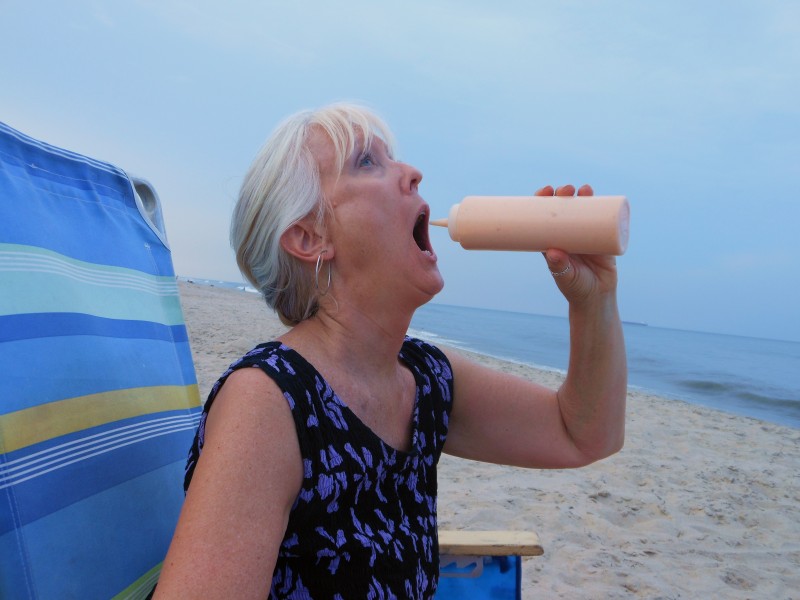 Chili-Lime Mayo
As with the slaw, this balance of flavors tasted delicious to me and my dining companion, Sharon–as you can see, she's "drinking" it out of the bottle!–but feel free to adjust to suit your taste.
1/4 to 1/3 cup vegan mayonnaise (homemade or prepared; to cut the tang, use half vegan sour cream)
Zest and juice of 1/2 large lime
1 teaspoon Sirachi chili sauce or to taste (feel free to substitute your favorite chili sauce)
1 tablespoon softened creamy natural peanut butter (I heat it for a few seconds in the microwave)
1 tablespoon cocont cream (not coconut milk)
Pinch of sea salt
Optional: 1 clove garlic, minced (I don't prepare this mayo with garlic, but I think it would be tasty, so if it sounds good to you, add it!)
Whisk all ingredients together until smooth in a small bowl.  Spoon into a "squirt" bottle if desired to allow you to add it to your "dogs" in a pretty squiggle.  Refrigerate until serving time.