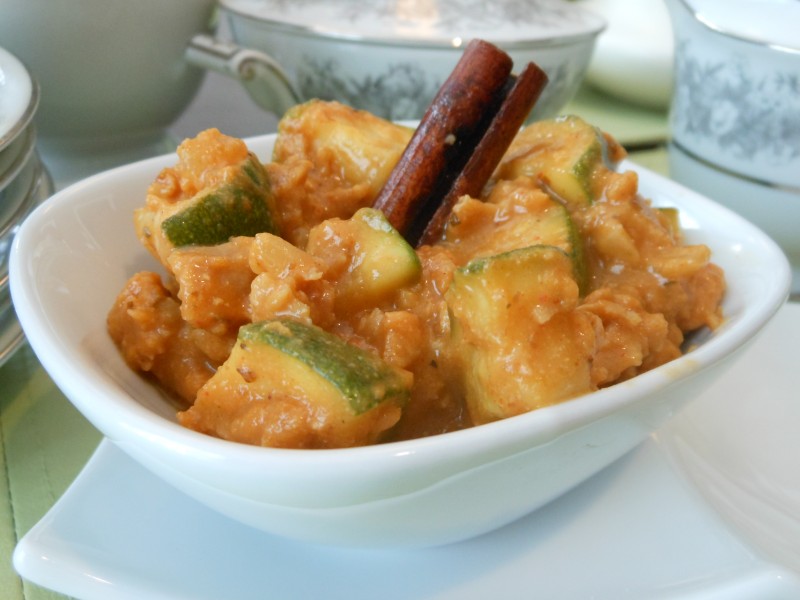 Yield: 4 servings
I will admit that this non-traditional chili came from very humble beginnings–a zucchini from the farmer's market that needed used and soon and some textured vegetable protein, which keeps forever and that I had had on hand for about that long–but it is glorious!
It is also simple to prepare, mouth-watering, a beautiful golden color, nutritious, filling-but-not-too, and delightfully perfumed.
"TVP?" you may wonder.  Believe me, I did too.   I suppose I ate it at some point–probably in school lunches back when its cost effectiveness as a cheap source of protein led to it being camouflaged in a variety of dishes–but I know I have never cooked it.  I purchased it quite a while ago out of curiosity.  Turns out that I really liked both its texture and flavor, namely whatever it is cooked with.  Something about its appearance and texture reminded me of chopped clams (from back in the day), so stay-tuned for some kind of yummy chowder.
In the meantime, enjoy this chili!
2 cups textured vegetable protein (TVP) or crumbled vegan ground meat substitute, e.g. soy crumbles or tempeh
2 cups vegetable stock
1 tablespoon olive oil
1 medium onion, cut into 1/4-inch dice
Sea salt
4 large cloves garlic, very thinly sliced
2-8 inch zucchini, ends trimmed, sliced vertically, and cut into 3/4-inch pieces
1/2 cup dry white wine
1 stick cinnamon, broken in half
2 teaspoons ground coriander
2 teaspoons ground cumin
2 teaspoons smoked paprika
1/2 teaspoon chipotle chili powder (or 1 teaspoon of a milder chili powder like Ancho)
1 cup coconut milk
1 cup pureed pumpkin
Optional garnishes: vegan sour cream, broken cinnamon sticks, and/or roasted and lightly salted pumpkin seeds
In a 2-quart saucepan, combine textured vegetable protein (TVP) and stock.  Bring to a vigorous simmer over medium-high heat and cook, uncovered, stirring frequently, until the stock is absorbed, about 10 minutes.
In a large skillet (cast iron is always my preference), heat olive oil to shimmering over medium-high heat.  Add onion and a pinch of salt, and cook for about 3 minutes, stirring frequently, until softened.  Add garlic and cook another 30 seconds to 1 minute, stirring, until softened.  Add zucchini, and saute, stirring frequently, until softened, about 3-5 minutes.  Add textured vegetable protein, wine, cinnamon sticks, coriander, cumin, smoked paprika, and chipotle chili powder, and stir well.   Stir in coconut milk and pumpkin and cook, stirring fairly frequently, for about 10 minutes or until flavors marry.  Thin with a little water or white wine if necessary.  Check for salt and stir in more if necessary.  Serve warm in bowls garnished, if desired, with vegan sour cream, a piece of a cinnamon stick, and a few roasted and lightly salted pumpkin seeds.