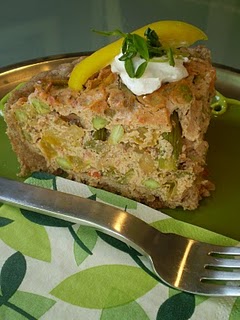 On Wednesday, my "Veggie Table" column in The Virginian-Pilot's "Flavor" section featured my vegan quiche…
I'm bringing quiches back.
If you happen to be of a certain age, you probably associate quiches and spinach salads with the fern bars of the 70s. Quiches have gotten a bad rap over the years. But, provided they are made my way—with no meat or dairy products—they are really the perfect food for any time of day: a creamy and colorful protein- and vitamin-rich filling inside a tender crust. "How?" you ask. Easy.
For starters, wipe all images of flour-strewn counters and falling-apart homemade crusts–or store bought facsimiles–out of your mind. My go-to press-in pie crust is delicious, simple and highly adaptable. It can be made with all-purpose flour or, my preference, whole wheat flour, or a combination. You can even substitute a half cup or so of cornmeal for an equal amount of the flour for a fun taste and texture twist. Plus, you can jazz it up with herbs, spices, ground nuts and seeds. Literally, all you do with these dry ingredients is stir them together with a little canola oil and soymilk right in the pie pan, press the resulting dough onto the bottom and sides, and bake for 10-12 minutes.
The filling is similarly hassle-free and endlessly flexible. The secret to making a creamy non-dairy custard that holds its shape is firm tofu. And the secret to making the filling beautiful, flavorful and nutritious lies right in your imagination. For the custard itself, you can keep it straightforward or you can add an array of herbs, spices, pestos or condiments like Dijon mustard or horseradish. To this, you add approximately 4 cups of your favorite fresh or frozen vegetables, sautéing them with onion and garlic just until they are crisp-tender. The whole mixture is then transferred into the partially baked crust and returned to the oven for another half hour or so.
This recipe celebrates spring with asparagus, yellow bell pepper and edamame set off with sundried tomatoes. But I encourage you to celebrate your own creativity with whatever tickles your fancy because there are lots of ways to slice this pie.
Vegan Presto! Press-In Pie Crust
Yield: 8 servings
1 ½ cups all-purpose or whole wheat flour or half of each (I prefer all whole wheat)
1 teaspoon salt (I use coarse kosher or sea salt)
2 teaspoons sugar
½ cup canola oil
2 tablespoons plain or unsweetened soymilk
Preheat oven to 400 degrees. Mix the dry ingredients in an 8 to 9 inch pie plate (I like to use the deep dish variety). In a separate container, mix the oil and milk until well blended. Pour the liquid over the dry mixture and work around with a fork or fingers until completely incorporated. Press the crust into the bottom and sides of the pie plate using the bottom of a sturdy glass to achieve a uniform thickness and neat appearance. Bake for 10-12 minutes or until set and slightly browned (or, if not making this quiche, bake according to the directions for whatever recipe you are making). Leave oven on when you remove the crust. Note: this crust, made with whole wheat flour, made beautiful, sturdy 4-inch tart crusts that held up beautifully even when removed from the tart pans and slid off the removable bottoms.
Vegan Quiche Filling or Frittata
Yield: 8 servings
1 tablespoon olive oil
1 medium onion, fairly finely chopped
4 cloves garlic, minced
*1 bunch of asparagus, woody ends trimmed and stalks cut into 1-inch pieces (if asparagus is thick, I like to slice it lengthwise before cutting in pieces)
*1 yellow bell pepper, stemmed, seeded and slice into ¼-inch slices and then 1-inch pieces
*1 cup frozen edamame
14-16 ounces firm tofu, drained (Note: Silken tofu makes a creamier filling which is nice for desserts, but I prefer the regular tofu for this savory recipe)
½ cup soymilk
8 sundried tomatoes in oil, drained
¼ teaspoon Dijon mustard
¼ teaspoon horseradish
1 generous teaspoon dried tarragon (or 1 generous tablespoon fresh minced)
¾ teaspoon salt (I use coarse kosher or sea salt)
¼ teaspoon ground nutmeg
¼ to ½ scant teaspoon ground red pepper
Freshly ground black pepper to taste
1 tablespoon dried parsley
Optional: 2 tablespoons nutritional yeast or grated vegan Parmesan cheese
*Note: you may substitute approximately 4 cups of your favorite fresh or frozen vegetables. If frozen, sauté with onion and garlic just until thawed. Frozen spinach should be thawed and squeezed out before adding. If vegetables are fresh, sauté with onion and garlic just until crisp-tender.
In a large cast iron skillet over medium-high, heat oil until shimmering. Add onion and garlic and saute, stirring frequently, until golden. Add asparagus and bell pepper pieces and continue sautéing for a few more minutes or until vegetables are still brightly colored, but crisp-tender. When veggies are almost done, stir in edamame just to warm them through. Meanwhile, in a food processor, combine tofu and remaining ingredients; process until smooth. In a large bowl combine tofu mixture with sautéed vegetables. Transfer into pie crust and lightly smooth top. Bake in preheated 400-degree oven for 35 to 40 minutes, or until quiche is set. Allow to stand for at least 5 minutes before cutting and serving. (To make this recipe as a frittata, simply bake filling in an oiled pan with no crust.)
Source: adapted from a recipe at www.steptalk.org