Yield:  approximately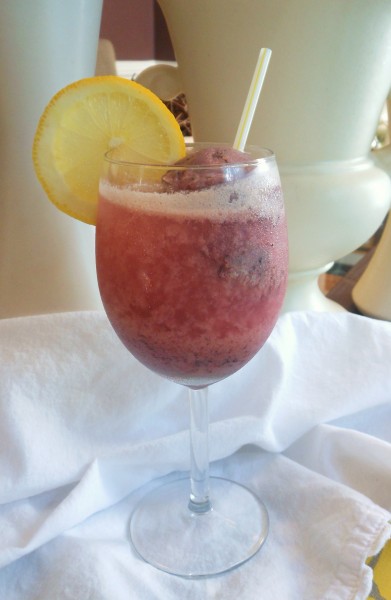 5 cups of ice cream
I have SO many recipes to post, but we had a dog drama with Huff the Dorito Dog on Wedensday (he is going to be fine), and yesterday, I was travelling to visit my family in MS.  When I opened the fridge today, I saw TONS of fresh blueberries that my (85 year old) father and sister had picked at a good friend's house, so I thought I would start with this refreshing treat!
This deliciously different ice cream was born of fresh blueberries from the farmer's market, a healthy crop of basil growing in a pot just outside our door, and some of Bryanna Clark Grogan's ingenious Vegan Lemon Curd leftover from a cookie baking session.
Complex, but not muddy in flavor, this ice cream epitomizes summer with the floral notes of the basil, the earthy sweetness of the blueberries and the subtle citrus undertones of the lemon curd.  Not as tangy as a pure lemon ice cream, if it's that tartness you seek, I highly recommend that you top the ice cream with a splash of lemonade for a refreshing and zippy cooler.
And, if you think the basil seems odd, feel free to leave it out, but I think it adds a very special quality.  With or without the basil, please enjoy!
2 tablespoons arrowroot powder (thickens witout crystallization)
1 cup unsweeteened soymilk
2 cups soy creamer
1 1/2 cups fresh blueberries, rinsed and drained
3/4 cup Bryanna's Lemon Curd
1/3 cup natural sugar
Pinch sea salt
2-6 to 8 inch stems basil leaves, rinsed and patted dry
1 teaspoon vanilla extract
In a small cup or bowl, whisk together arrowroot powder and 1/4 cup soymilk.  In a 1-quart saucepan, combine remaining 3/4 cup soymilk and soycreamer, and cook over medium heat until mixture begins to boil.  Remove it from the heat and immediately whisk in arrowroot cream causing the mixture to thicken considerably.  Pour into a medium bowl, add stems of basil, cool the custard to room temperature and then remove basil, using your fingers to scrape off the custard clinging to the basil.  Process blueberries, lemon curd, sugar, and sea salt in the bowl of a food processor until smooth; flecks of blueberry skin will remain.  Whisk into custard, along with vanilla, cover, and chill for at least 3 hours.  Freeze in an electric ice cream maker (mine is a Cuisinart) according to manufacturer's directions.  Serve immediately or freeze, covered, to allow ice cream to stiffen.
Lemonade Cooler
For each serving, place 2 scoops of ice cream in a stemmed glass, pour about 1/3 to 1/2 cup lemonade over the top(I use a reduced calorie variety), garnish the side of the glass with a lemon slice, and serve with a straw and long-handled spoon.