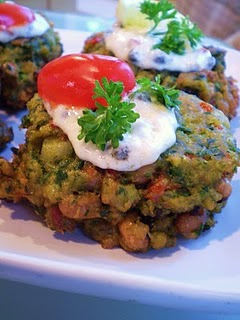 Yield: 12 main dish cakes, 24 appetizer or 36 hors d'oeuvres portions
At Thanksgiving, my sister-in-law, Tina, and I made Vegan Thai Corn Fritters that were a big hit. Ever since, I've wanted to try the same basic method using other vegetables and legumes. So, when I saw a vacuum sealed box of seasoned and cooked black eyed peas in the grocery store, this southern girl knew just what she'd do with them. And, boy, am I glad I did.
Though fried in canola oil, these hearty and colorful cakes are otherwise nutritional powerhouses and lip-smacking good. Black eyed peas, fresh spinach, red bell pepper, green onion, parsley and seasonings are bound together by pureed tofu and a mixture of flour and panko bread crumbs for a little crunch.
The tangy sundried tomato and caper-studded mayo is just the right creamy kick to set complement the cakes' creamy-chewy-crispy goodness. Garnished with parsley, grape tomatoes and lemon slices, they are pretty as a picture, don't you think?
I hope you enjoy this sanitized version of southern soul food.
For this recipe and some 170+ more,
I invite you to purchase my first cookbook:
The Blooming Platter:
A Harvest of Seasonal Vegan Recipes
Vegan Heritage Press
Spring 2011