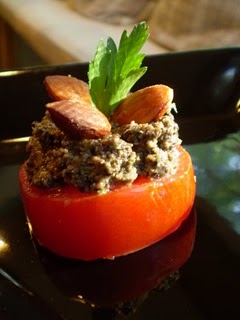 Yield: 4 servings
These cute, tasty and fresh appetizers were inspired by an olive paste recipe I copied years ago out of The Surreal Gourmet and by the bounty of fresh tomatoes in our area this time of year. When I decided on the ingredients and amounts that I wanted to use in the paste, I went back and looked at my old recipe and they were surprisingly similar. I guess I had "implanted" that recipe deep into my psyche.
Olive Paste:
1-6 ounce can (dry weight) pitted black olives
2 tablespoons pine nuts, pistachios, walnuts, almonds, etc.
2 tablespoons extra virgin olive oil
¼ cup packed flat leaf parsley
1 ½ teaspoons fresh oregano leaves (or ½ teaspoon dried)
¾ teaspoon fresh thyme leaves (or ¼ teaspoon dried)
Kosher or sea salt and freshly ground black pepper to taste
Place all ingredients in the bowl of a food processor fitted with a metal blade and process until smooth. Scrape into a serving vessel, cover, and refrigerate until serving time. May be made in advance.
4-8 fairly large cherry tomatoes (one or two per person)
a handful of smoked almonds
sprigs of flat leaf parsley
Prepare tomatoes one of three ways: halve them, cut an "X" in the top, or use a melon baller to scoop out a little bit of the flesh from the top (save for another purpose). Using a small spoon, dollop olive paste in or on tomatoes and garnish each with 1-3 smoked almonds and a sprig of flat leaf parsley.