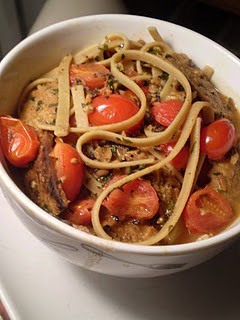 Yield: (2 servings; but I didn't have lunch, so I ate the whole recipe!)
You may have noticed that I've been posting a fair number of recipes calling for grape tomatoes lately. The reasons are simple: they, along with Romas, look better in the winter; my grocery store sells them in large containers; and my husband doesn't care for them. So, in order to use these beauties before they spoil, I've concocted several new ways to enjoy them. Here's the latest:
Coarse sea or kosher salt to taste
4 ounces whole wheat linguine
1 tablespoon olive oil
1-4 ounce package tempeh bacon, cut into 1 1/2-inch pieces
2 tablespoons plain soy creamer
1 tablespoon maple syrup
3 tablespoons nutritional yeast
Freshly ground black pepper
1 1/2 cups grape tomatoes, halved lengthwise
1 tablespoon dried or 3 tablespoons fresh minced parsley
In a medium put, bring a generous quantity of salted water to a boil. Add linguine, reduce heat to a simmer, stir, cover and cook for a few minutes or until al dente. Meanwhile in a cast iron skillet over medium-high, heat olive oil to shimmering. Add bacon and saute on both sides for a minute or two or until a light brown crust develops. Add two scant ladles of pasta water to the skillet, followed by soy creamer, maple syrup, nutritional yeast, and pepper. Stir gently to combine well. Stir in tomatoes and heat through, stirring occasionally. Drain pasta. Gently toss with sauce in skillet. Stir in parsley and serve in bowls with a fork and spoon.