Yikes, today almost came and went with no MoFo!
But never fear, I've got the perfect fall recipe for when you need to dish up a little comfort, and who doesn't need that these days?
Since hash is traditionally served with an egg, and I had a little savory cashew cream in my fridge, I wondered if I could flavor it with black salt, whose distinctly sulpher-y taste is uncannily reminiscent of an egg, and use it as a topping.  Indeed!  It was perfect.
Thank you, Isa, for turning me on to the wonders of Indian black salt, which is actually a beautiful gray color.  Pick up a bottle at Indian markets or specialty food stores.  I snagged mine at Napa Style (and probably paid a lot more) while on vacation in San Francisco this past summer.
Begin making the Cashew Cream the day before you plan to use it:
Cashew Cream
You will have lots of leftover, but you'll be glad you do!
2 cups raw cashews, divided in half
2 cups water, divided in half
Sea salt to taste
In a covered bowl, soak 1 cup cashews in 1 cup water overnight in the refrigerator.  Rinse and drain.  Process the cup of soaked cashews with the additional cup of raw unsoaked cashews and the remaining cup of water in a food processor for several minutes, or until smooth, scraping down the sides of the bowl as necessary.  Add salt to taste, process just to combine, and store covered in the refrigerator.
Vegan Chorizo and Sweet Potato Hash with Black Salt Cashew Cream
Yield: 4 servings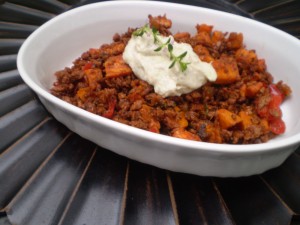 2 tablespoons olive oil
1 medium red onion, cut into 1/4-inch dice
1 large clove garlic
1 medium red bell pepper, cut into 1/4-inch dice
2 medium sweet potatoes, peeled and cut into 1/4-inch dice (it is very important to patiently cut the dice this small
1-12 ounce package vegan Chorizo, casing removed (I use Trader Joe's brand)
2 tablespoons fresh thyme leaves
Garnishes:
4 or so tablespoons of plain Cashew Cream, seasoned to taste with a pinch or more of black salt (recipe above)
4 sprigs of fresh thyme (it's especially pretty when in bloom)
In a large cast iron skillet over medium-high, heat olive oil to shimmering.  Add onion and saute, stirring frequently, until softened and a little bit of color starts to develop, about 3 to 5 minutes.  Add garlic, bell pepper, and sweet potato, and saute, stirring frequently about 5 minutes or slightly longer until the bell pepper is quite soft and the sweet potato is beginning to become tender. Crumble chorizo into the pan and saute, still stirring very frequently, for an additional 5 minutes or slightly longer until sweet potato is very tender.  At any point, if the mixture appears to be drying out, you may add another tablespoon of olive oil or water, and/or slightly reduce the heat.  Sprinkle with fresh thyme leaves and heat through for another 30 seconds to a minute.  Serve hot with dollops of the Cashew Cream mixture and a sprig of fresh thyme.