This is one of my dream dinners: super healthy, lusciously creamy, beautiful to look at, and a "twofer" in that both the chickpea mixture and the pepita pesto can easily stand alone. Plus, it's an anti-oxidant powerhouse of a one-dish meal.
I first made the pesto to drizzle over my Roasted Turks' Turban Squash.  It was addicting!  So I knew I had to create other dishes with which to enjoy it lest I spend the fall eating nothing but Turks' Turban squash.  Stay tuned for more to follow.
You can serve up a nice bowl of this thick spicy melange and serve the grilled bread on the side, or you can serve it as a crostini, like you see in the photo.  Either way, you'll be licking your lips.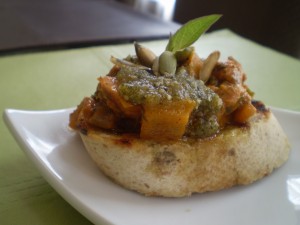 Yield: 4 servings
1 tablespoon olive oil
1/2 of a medium-large yellow onion, cut into 1/4-inch dice
1/2 of a large orange bell pepper, stemmed, seeded, and cut into 1/4-inch dice
Sea salt to taste
2 large cloves garlic, minced
2 cups of very finely chopped kale (I used a food processor for this task)
1-15.5 ounce can chickpeas, rinsed and drained
6 ounces of vegan chorizo (I purchase Trader Joe's brand)
1-15 ounce can coconut milk (I use the lite variety)
1/2 cup pumpkin puree
Optional: 2 tablespoons apple juice (this sounds like an odd addition, but adds a little hint of something delicious but unidentifiable)
1 teaspoon ground cumin
1 teaspoon smoked paprika
1 teaspoon rubbed sage
Freshly ground black pepper to taste
1 tablespoon Pomegranate Molasses
Zest of 1/2 of a lemon
Vegan Pepita and Sage Pesto (recipe follows)
Optional Garnish: a few lightly salted and roasted pepitas (pumpkin seeds) and sprigs of fresh sage
Accompaniment: grilled slices of bread (about 3/4-inch thick)
In a large cast iron skillet, heat the tablespoon of olive oil to sizzling over medium-high.  Add onion, bell pepper, and a generous pinch of salt, and saute, stirring frequently, for about 3 minutes or until softened. Add garlic and kale and saute, still stirring frequently, for another 3 minutes. Add chick peas and chorizo, stirring just to combine after each.  Stir in remaining ingredients, except lemon zest and pesto, and heat, stirring occasionally, for another 3-5 minutes.  Stir in lemon zest and serve hot drizzled with Pepita and Sage Pesto or pass the pesto in a small bowl with a serving spoon.  Garnish with pepitas if desired.  And serve with or on top of grilled bread.
Vegan Pepita and Sage Pesto
1/2 cup roasted and lightly salted Pepitas (I buy Trader Joe's brand)
1 medium clove of garlic, peeled
8 fresh sage leaves (or pineapple sage leaves)
1/8 teaspoon of ground nutmeg (freshly grated is especially nice)
1/8 teaspoon of chipotle chile powder
1/2 cup olive oil
1 teaspoon maple syrup
Juice of 1/2 of a small lime
Optional: 1 1/2 teaspoons nutritional yeast
Sea salt to taste (I like a "goodly" amount in this)
Place Pepitas, garlic, sage, nutmeg and chili powder in the bowl of a food processor.  Process until a coarse paste forms.  With the motor running, add olive oil in a steady stream until the mixture is pulpy-smooth.  Turn off the motor.  Add maple syrup, lime, optional nutritional yeast, and salt to taste, and pulse just two or three times to combine.  Adjust seasoning if desired, and use immediately or store, covered, in the refrigerator.  Allow to come to room temperature or heat slightly before serving.
For 150+ other fresh seasonal recipes, I hope you might check out The Blooming Platter Cookook: A Harvest of Seasonal Vegan Recipes!