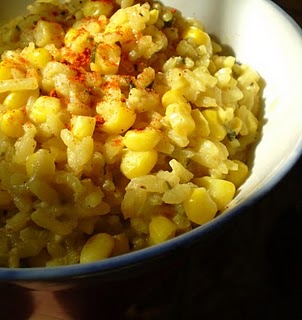 Yield: 2-3 healthy servings
If you read my Vegan Edamame Risotto post, you know that it was inspired by a dish our friend Jeff Berger ordered at The Green Onion in Virginia Beach last Friday night. He pronounced his dinner, which included a non-vegan corn risotto, "stellar."
A couple of tiny tastes–just for research–of his creamy-fluffy mound of rice and sweet corn created a powerful craving in me. But I thought I had no corn, so I made an edamame version, which was on the money.
Still, though, I wanted to try the corn. The next day, I found a bag hidden in the freezer, so I made it again. Another keeper! Though the frozen corn was very good, I can't wait to try the dish this summer when our fresh corn is in season.
As with the edamame version, the flavor of the risotto is largely dependent on stock, so be sure to use one that is very flavorful, but not too salty, as both the flavors and salt become concentrated as the stock cooks down. This happens quickly and, before you know it, you are adding more stock and what seems like protracted hands-on cooking time, "evaporates."
1 tablespoon olive oil
2/3 cup rice
1 shallot, finely chopped (or about 2-3 tablespoons of finely chopped onion)
2-3 cloves garlic
4 cups vegetable stock
1 cup white wine (I used a Pinot Grigio)
(or 5 cups vegetable stock)
1/4 cup nutritional yeast
coarse sea or kosher salt to taste (you may not need any if your stock is adequately salted)
freshly ground black pepper to taste
optional: 1 teaspoon vegan butter (I like Earth Balance)
optional: 1 tablespoon soy or coconut milk creamer
generous 1/2 cup of fresh or frozen corn (if fresh, just cut it right off the cob, raw)
optional garnish: a sprinkling of nutritional yeast and snipped chives
In a large cast iron skillet or pot over medium-high, heat olive oil to shimmering. Add rice and, toast, stirring frequently. When barely, golden, add shallot and garlic and continue cooking until the color of the rice is a light golden brown. Meanwhile, heat stock and white wine to a bare simmer. Once the rice is the desired color, start adding half cups of the liquid to it, simmering while stirring frequently until almost all moisture is evaporated. Repeat until all liquid is used, which should take about 30 minutes. Be careful that, as the rice becomes creamy, it doesn't stick to the pan. Lower heat if necessary. After about 15 minutes of cooking, stir in the optional soy sauce and nutritional yeast along with the salt, if needed, and pepper. After about 25 minutes, stir in the edamame and finish cooking the risotto, adding the optional vegan butter and creamer very near the end. Serve warm topped with a sprinkling of nutritional yeast and, if desired, snipped chives.
Note: if you prefer a risotto with a lighter color and less pronounced rice flavor, don't toast the rice first.