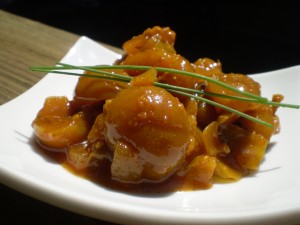 What does an English lass request when faced with hospital food?   Chutney!
And so my good ex-pat friend's request fed into my natural desire to exploit the freshest seasonal ingredients sans all but a pinch of salt–she's a heart patient–playing up their natural flavors instead with vinegars, herbs and spices.
At the farm market, I bought what looked the most succulent and beautiful–fresh figs, green tomatoes, golden grape tomatoes, and blueberries–only deciding how to pair them up once I got home.   But here's a little tip: what grows together in a given season typically tastes quite delicious together, so I couldn't have gone wrong, and neither can you!
For this chutney, I married the fresh figs with the green tomatoes.  So, quickly, before this season's crop is all gone, whip up a batch of this unforgettable chutney for a last blast of summer freshness.
1 tablespoon olive oil
1 medium-small onion
Pinch of sea salt
2 large cloves garlic, minced
2 medium green tomatoes, cored, and cut into 1/4-inch dice
3 cups fresh fig halves (mine were very small, like a grape tomato; if yours are larger, quarter)
1/2 cup apple cider vinegar
1/4 cup natural sugar
1/4 cup agave nectar
1/2 teaspoon chipotle chili powder (substitute ancho if chipotle is too hot for your taste)
1/2 teaspoon dried oregano (or about 1 1/2 teaspoons fresh minced)
1/2 teaspoon smoked paprika
1/2 teaspoon turmeric
Freshly ground black pepper
1/4 cup loosely packed pineapple sage or sage, preferably Mexican, chiffonade (stack leaves, roll tightly, and slice very thinly into very thin ribbons)
2 teaspoons fresh lemon juice
In a large cast iron skillet over medium-high, heat the olive oil to shimmering.  Add the onion and a pinch of salt and saute, stirring frequently, for about 3 minutes or until the onion is softened.  Add the garlic and saute, stirring for about 30 seconds.  Add the tomato and cook, stirring frequently, for about 3-5 minutes or until softened.  Add the figs, and do the same.   Stir in all of remaining ingredients except the sage and the lemon juice and simmer, stirring occasionally and lowering heat if necessary, to prevent sticking, for about 25 minutes or until the mixture is thick and pulpy.  Cooking times will vary depending on the juiciness of the fruit.  Stir in the sage and lemon juice and cook, stirring, for one more minute.  Remove the pan from heat and cool the mixture to room temperature before serving.  Or, store it in an airtight container in the refrigerator.  For the best flavor, return the chutney to room temperature before serving. It is delicious served over vegan brie or other cheeses as a crostini, or served with your favorite vegan protein liked tempeh.
For 150+ additional seasonal recipes not on this website, I invite you to explore The Blooming Platter Cookbook: A Harvest of Seasonal Vegan Recipes.