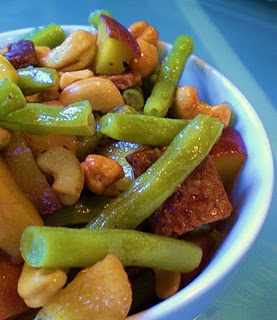 I love those vegetable side dish recipes that, with the addition of a tasty protein, become a full meal, though, in this case, a very light summery one.
Essentially I added cooked tempeh "bacon" pieces and lightly salted and roasted cashews to my Vegan Fresh Green Bean and Peach Salad with Light Vegan Asian Dressing.
I'm a little embarrassed, but I ate an entire half recipe for lunch. The slightly chewy green beans and smokey tempeh bacon, the sweet juicy peaches, and the crunchy cashews made for quite a texture and taste sensation. And the tempeh wasn't entirely cool when I added it to the salad, so I found the temperature contrast very appealing.
For this recipe and some 170+ more,
I invite you to purchase my first cookbook:
The Blooming Platter:
A Harvest of Seasonal Vegan Recipes
Vegan Heritage Press
Spring 2011