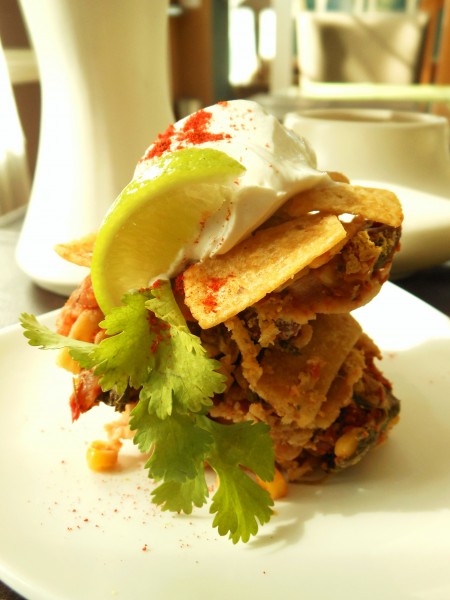 Yield: 8 servings
As I've mentioned a few times lately, I am on a major "comfort food" kick, veganizing old recipes like Poppy Seed Chicken Casserole and much more.
With daylight savings time here and the promise of spring, I thought I was coming out of it.  But when a recent day dawned gray and cold, I absolutely had to have a Frito Chili Pie.
The first one I ever remember tasting was on a 7th grade hay ride.  Parent volunteers tore open individual size bags of Fritos and ladled in chili that we 'tweens ate right out of the bag with plastic spoons.  It was something fun and a little different in my 12 years of culinary experience.
When I created this recipe, I wasn't serving a crowd, so I knew I would bake mine in layers.  The question, though, was what kind of chili to make.  I started poking around online, but all the recipes I found were for pretty straight-ahead chili, vegan or not.  Though, I love so-called comfort food, it isn't very comforting if it is a nutritional disaster, so my crusade to veganize old favorites has involved cleaning these recipe up a bit.  And, for this, I decided to create my own spinach variety with smoky notes from a chipotle pepper in adobo.
The supremely satisfying result is hearty, healthy, spicy and colorful with wonderful textural variety.  I feel almost virtuous digging into it.  But Fritos are pretty high in calories and fat, so the trick here is portion control.  Though this rendition is definitely a one dish meal, you may want to serve a side salad just to prevent yourself from overdoing it.  That is, if you share my propensity for wanting to dive headlong into comforting casseroles.
I love the fact that a homey casserole can be served up in a "stack" to rival the appearance of restaurant fare and belie its homespun roots.  Just click right HERE to go straight to the recipe at One Green Planet.  Enjoy!