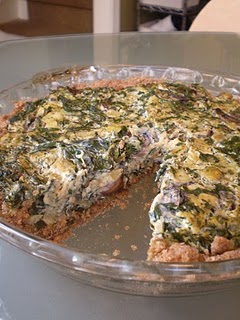 Yield: one 8 or 9-inch quiche or four 4-inch tartlets (this recipe easy doubles and can be baked in a 9 x 13-inch pan, but adjust the baking time as the batter will be deeper and, hence, need a few extra minutes)
This tasty high-protein quiche can take on endless guises. I made the one in the photo with 10 ounces of frozen chopped spinach and 1 cup of lightly sauteed mushrooms. I made another crowd-pleasing version with fresh sauteed asparagus and diced sundried tomato. Let your food fantasies be your guide. Watching your calories? Omit the crust and make a savory frittata.
1 8 or 9-inch vegan Press-In Pie Crust (see recipe below)
1 tablespoon olive oil
1 medium yellow onion, finely chopped
4 cloves garlic, minced
10 ounce package frozen vegetables, thawed, or 2 cups lightly sautéed veggies of your choice (more is fine, about up to 4 cups or so)
1 pound firm or extra-firm tofu, drained (Silken tofu, whether firm or extra firm, will produce a creamier quiche, while regular firm or extra-firm tofu will produce a slightly sturdier and drier filling)
1/2 cup unsweetened or plain soy milk
1/4 teaspoon Dijon mustard
3/4 teaspoon salt
1/4 teaspoon ground nutmeg
optional: 1/2 teaspoon ground red pepper (scant)
black pepper to taste
1 tablespoon dried parsley (optional)
2 tablespoons nutritional yeast or grated vegan Parmesan cheese
In a large skillet over medium-high, heat oil to shimmering. Sauté onion and garlic until golden. Stir in the thawed vegetables (I used 10 ounces of chopped spinach) and heat through. Or, if using fresh vegetables, add them and sauté lightly. Meanwhile, in a food processor fitted with a metal blade, combine tofu and remaining 8 ingredients; process until smooth. In a large bowl combine tofu mixture with broccoli mixture. Pour into pie crust. Bake in preheated 400 degree oven for 35 to 40 minutes, or until quiche is set. Allow to stand for at least 5 minutes before cutting.
Vegan Press-In Pie Crust
1 ½ cups unbleached all-purpose or whole wheat flour
1 teaspoon salt
2 teaspoons sugar
½ cup canola oil
2 tablespoons soy milk
Preheat oven to 400 degrees. Mix the dry ingredients in a 8 or 9-inch pie plate. Pour the oil and milk over the dry ingredient mixture and work around with a fork or fingers until all of the liquid is absorbed. Press the crust firmly into the bottom and sides of the pie plate. The bottom and sides of a glass accomplish this task nicely. Bake for 10-12 minutes and remove from oven, but leave oven on. Note: this crust, made with whole wheat flour makes beautiful, sturdy 4-inch tart crusts that hold up even when removed from the tart pans and slid off the removable bottoms. Like the larger crust, I bake them 10-12 minutes before filling.
Pie Crust Source: http://www.steptalk.org/