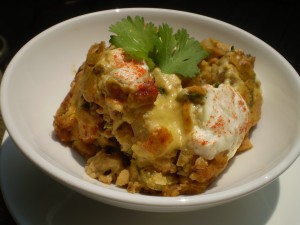 Yield: 4-6 servings
What is the largest section of the local church cookbook?  Probably casseroles, the ultimate comfort food, at least for those of a certain persuasion.
When I was a kid, my mom, Sallie Gough, made one that I have not seen anywhere before or since:  Green Chilies Casserole.  It was a fairly creamy and nicely spiced amalgamation of ground beef, onion, sauteed tortillas, diced green tomatoes, and green chilies all held together with, yep, condensed cream-of-something soup.  And surely there was some melted cheese in the mix too.
While I don't cook or eat like that any longer,  I do have fond memories of that casserole, including making it.  It was super-satisfying to eat, fun to assemble, and created an intoxicating aroma in the kitchen.  So, when I was at the farmer's market a couple of days ago, the green tomatoes were firm and beautiful.  I instantly thought of mom's signature casserole and the tempeh at home in my fridge that would substitute nicely for the ground beef.  To stand in for the canned soup and cheese, I decided to make a simple creamy vegan cheese sauce.   And I substituted green salsa with green chilies for the can of green chilies for extra moisture and flavor without an overwhelming green chili taste.
It's been a lot of years since I last had this casserole, but to the best of my recollection, my vegan version comes close and is a LOT lighter yet it still has that creamy-comfort factor.  I hope it beomes a staple at your house.
Cheese Sauce:
1/4 cup roasted and lightly salted cashew halves or pieces
1/4 cup nutritional yeast
1/2 cup total unsweetened soymilk and beer or nonalcoholic beer (I like about 5-6 tablespoons of soymilk and 2-3 tablespoons beer)
pinch garlic powder
pinch onion powder
pinch sea salt
Place all ingredients in the bowl of a food processor and process until very smooth, scraping down the sides of the bowl as necessary.
Casserole:
2 tablespoons olive or canola oil, divided
4 corn tortillas, cut into 1/2-inch pieces
sea salt to taste
1 small onion, cut into 1/4-inch dice
1-8 ounce package tempeh (any flavor)
2 large cloves garlic, minced
3/4 cup green salsa (salsa verde), homemade or prepared (these salsas typically contain tomatillos, green chilies, and cilantro)
1 large green tomato, cut into 1/4-inch dice
1/2 teaspoon ground cumin
1/4 teaspoon smoked paprika
1/2 cup coarsely chopped fresh cilantro (leaves and tender stems)
Freshly ground black pepper
about 7 small dollops vegan sour cream
Garnish: sprigs of fresh cilantro and a sprinkling of smoked paprika
Preheat oven to 350 degrees.  Oil a small round baking dish and set aside.  In a large cast iron skillet over medium-high, heat 1 tablespoon of oil to shimmering.  Add tortilla pieces and a pinch of salt, and saute, stirring frequently until they soften and start to develop some color, approximately 3 minutes.  Transfer tortillas to a small bowl and set aside.  Add remaining oil to the skillet, heat, and saute onion until softened, approximately 3 minutes.   Crumble tempeh into the pan, add garlic and a pinch of salt, and saute, stirring frequently, until tempeh is heated through and just begins to develop some color, again about 3 minutes.  As the mixture starts to dry out, add 1/4 cup of the green salsa and stir well.  Add green tomato, cumin, and smoked paprika, and saute, still stirring frequently, about 5 minutes, adding the remaining 1/2 cup green salsa during the cooking process.  Remove from heat, stir in cilantro and tortilla pieces, and season to taste with salt and pepper.   Then stir in half of the cheese sauce and spoon into prepared casserole dish.  Drizzle remaining cheese sauce over the surface of the casserole dish and dollop with sour cream (I place 6 dollops in a circle and one in the center).  Bake for 20 minutes or until heated through and top appears creamy, but slightly set.  Serve hot garnished with fresh cilantro sprigs and a dusting of smoked paprika.