This recipe was inspired by a recipe for a side dish of roasted grapes in a current issue of a home and garden magazine.  My recipe is slightly altered, including that it makes use of the lovely grape drippings in a silky pan sauce in which grilled tempeh is bathed before being served on a bed of bright green baby spinach under a tumble of the thyme-scented roasted grapes.  The result is perfect to tuck into when you're starved or to enjoy smaller portions, almost like tapas, when noshing is more the order of the day.
Yield: 2 servings (easily doubles)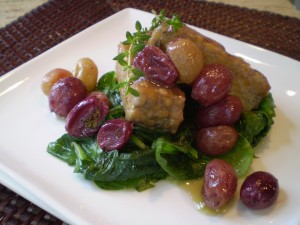 Roasted Thyme-Scented Grapes
1 1/2 pounds of seedless green or red grapes, or a combination (I like a combination for both color contrast and more a of a sweet-tart contrast in flavor; you will have grapes left over)
1 scant tablespoon olive oil (about 2 teaspoons)
Sea salt to taste
Approximately 1 tablespoon very loosely packed fresh thyme leaves
Freshly ground black pepper to taste
Grilled Tempeh Over Sauteed Baby Spinach with White Wine Pan Sauce (recipe follows)
Preheat oven to 450 degrees.  Place grapes in a metal roasting pan, drizzle with olive oil and sprinkle with a generous pinch of salt.  Toss to coat.  Place the pan in the center of the oven and roast for 5 minutes.  Open the door, give the pan a gentle shake, close the door, and roast for 3 more minutes.  Remove the pan from the oven, drain off and reserve as much liquid as possible.  Sprinkle the grapes with the thyme and black pepper, gently stir, and return the pan to the oven for another 4 minutes or until the grapes are lightly roasted but still hold their shapes (it's fine if a few split open).  Remove the pan to a wire rack to cool slightly.  Serve the grapes immediately or store covered in the refrigerator.  Allow them to come to room temperature or heat them gently before serving.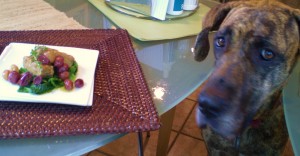 Grilled Tempeh Over Sauteed Baby Spinach with White Wine Pan Sauce
1-6 ounce package of tempeh, cut crosswise into 8 slices
Approximately 1/3 cup reserved grape drippings
1/3 cup dry white wine
1 cup water
1 tablespoon powdered vegetable base or 1 bouillon cube
1/3 cup plain soy creamer
Sea salt and freshly ground black pepper to taste
1-2 teaspoons olive oil
4 loosely packed cups of fresh baby spinach
Garnish: sprigs of fresh thyme
While grapes are roasting, heat an oiled grill pan over medium-high.  Add tempeh slices and grill approximately 2-3 minutes on each side or just until nice grill marks develop.  Meanwhile, in a large skillet over medium-high, heat grape drippings, white wine, soy creamer, and salt and pepper to simmering.  Simmer until thickened, about 5 to 6 minutes.  Add tempeh slices, turn to coat in the sauce, which will be quite reduced, and heat for about 1-2 minutes.  Meanwhile, in another skillet, heat olive oil over medium-high, add spinach, and saute for about 30 seconds or until slightly wilted and bright green.  Divide spinach between two serving plates.  Arrange 4 slices of tempeh on top of each bed of spinach.   Drizzle with remaining sauce if there is any.  Top each with a spoonful of grapes and a sprig of fresh thyme.  (Store remaining grapes, covered, in the refrigerator.)  Serve immediately.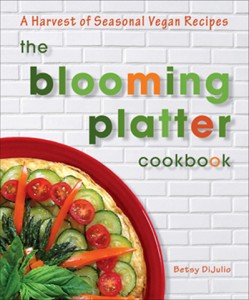 For a celebration of 150+ additional recipes, I invite you to check out The Blooming Platter Cookbook: A Harvest of Seasonal Vegan Recipes.