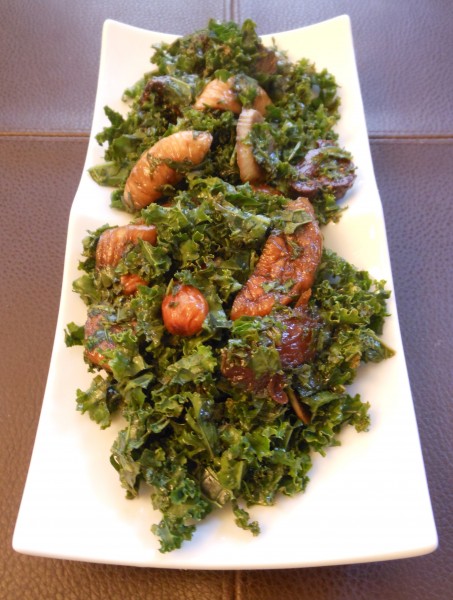 Yield: 8 servings
This beautiful and healthful salad was inspired by one that my close friend, Yvette Hetrick, makes with fresh figs caramelized in orange balsamic.  Ever since she shared the idea for her dish with me, I had wanted to make a version for Thanksgiving.
When Yvette and her husband, Randy, lived in VA Beach (they live in Sausalito now), we used to start co-planning in earnest for our respective feasts as soon as the November culinary magazines hit the stands.  And afterwards, we would pool our leftovers for a potluck dinner following a long beach-state park hike with all of our dogs in tow.  She and I both miss that tradition so much.
Undeterred by the lack of fresh figs and orange balsamic in VA Beach, I plunged ahead using two kinds of dried figs, adding some dates for good measure, and substituting pomegranate balsamic vinegar which was readily available at our local Kroger and sounded very fitting for the holiday.
After marinating the figs and dates all day, I turned over their caramelization to our nephew, Curt Lindelow, a partner and manager of a Bonefish Grill in South Carolina, who knows his way around a kitchen.  He did a beautiful job unsupervised by me and even recommended additional dressing, which was on point.  The following recipe reflects our combined efforts.
8 dried Kalamata figs, stems snipped, and the figs sliced into 3 pieces each
8 Mission figs, stems snipped, and sliced in half lengthwise
8 dates, pitted, and sliced in half lengthwise
6 tablespoons pomegranate balsamic vinegar
6 tablespoons olive oil
Sea salt to taste
Freshly ground black pepper to taste
4-2 inch sprigs of fresh rosemary
2 large cloves garlic, thinly sliced lengthwise
1/2 teaspoon yellow or Dijon mustard
1/3 cup smoked almonds plus a few more for garnish
8 cups shredded fresh kale (I fold the leaves lengthwise, cut out the stems with kitchen shears, and pulse the kale in a couple of batches in a food processor fitted with a metal blade)
Several hours or the day before you plan to serve the salad, place figs and dates in a shallow dish (I use a ceramic 5 x 9-inch loaf pan).  Whisk together the vinegar and oil and pour it over the fruit.  Season to taste with salt and pepper, and then add rosemary and garlic.  Stir to combine.  Cover with plastic wrap and let marinate at room temperature.
Just before serving time, heat a cast iron skillet over medium-high.  Add the fruit and all of the marinade and cook down, slightly caramelizing, for about 7 minutes. Whisk in the mustard.  Taste and adjust seasoning with salt and pepper if desired.  Place the shredded kale in a serving bowl and pour the contents of the skillet directly over the kale.  Toss to evenly distribute the fruit and dressing.  Add smoked almonds, toss lightly again, and serve the salad immediately garnished with a few more smoked almonds if desired.