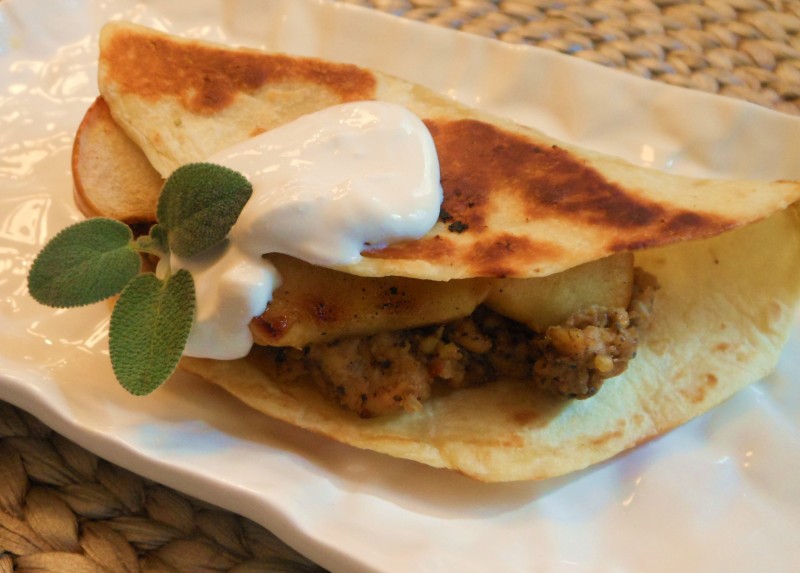 Yield: 8 quesadillas
Different, but not bizarre, this quesadilla celebrates the cozy flavors of fall.
2 large apples, halved, cored and cut into 12 wedges each
Sea salt
Olive oil
8 ounces tempeh (I use Trader Joe's "3 Grain" variety)
2 teaspoons soy sauce (I use a lite variety with less sodium)
1 teaspoon dry rubbed sage or a tablespoon minced fresh sage
Optional: 1 teaspoon fresh minced rosemary
1 teaspoon balsamic vinegar
1 teaspoon maple syrup
1/2 cup Quick Vegan Cashew Cream (Recipe Follows)
1/2 cup water
Freshly ground black pepper to taste
8 6-inch wheat tortillas
Optional: 1/2 cup caramelized onions
Garnish: dollops of vegan sour cream or additional Quick Vegan Cashew Cream, fresh sage or rosemary sprigs, roasted pepitas
Grill lightly salted apple wedges in well-oiled grill pan over medium high heat until tender and nice grill marks develop, about 2 to 3 minutes on each side.  Meanwhile, heat a tablespoon of olive oil in a large cast iron skillet.  Crumble tempeh into the skillet, add a pinch of salt, and saute, stirring frequently, until golden brown in some places, adding about a teaspoon of olive oil if it appears to be drying out.  Add soy sauce, sage and optional rosemary, and continue sauteing until golden throughout.  Stir in balsamic vinegar, maple syrup, Cashew Cream, and water, and heat, stirring, until mixture comes together.  Remove from heat and add additional salt, if necessary, and black pepper to taste.  Transfer filling to a bowl or carton and wipe out skillet.
To make quesadillas, heat another tablespoon of olive oil in skillet over medium high.  Place 1/8th of filling on half of each tortilla, top with 3 slices of grilled apple and optional 1/8th of caramelized onions.  Fold other half of tortilla up over the filling and toast, 2 quesadillas at a time, in skillet for a couple of minutes on each side or until golden brown.  Keep warm.  Repeat with more oil as needed and remaining tortillas, filling and apples.  Serve garnished as desired.
Quick Vegan Cashew Cream:
2 cups raw cashews
2 cups simmering water (heated stovetop or in microwave)
1/4 teaspoon sea salt or to taste
1/4 teaspoon garlic powder
Place cashews in a heat-safe bowl and pour simmering water over.  Let stand, covered, for a half hour.  Drain and reserve 1 1/4 cups of water.  Process cashews with sea salt and garlic powder until a thick past forms, about a minute or two.  Reheat water and, with motor running, stream in 1 1/4 cups or enough to reach desired consistency.  Serve as is, flavor as desired, or cover and refrigerate for use at a later date.