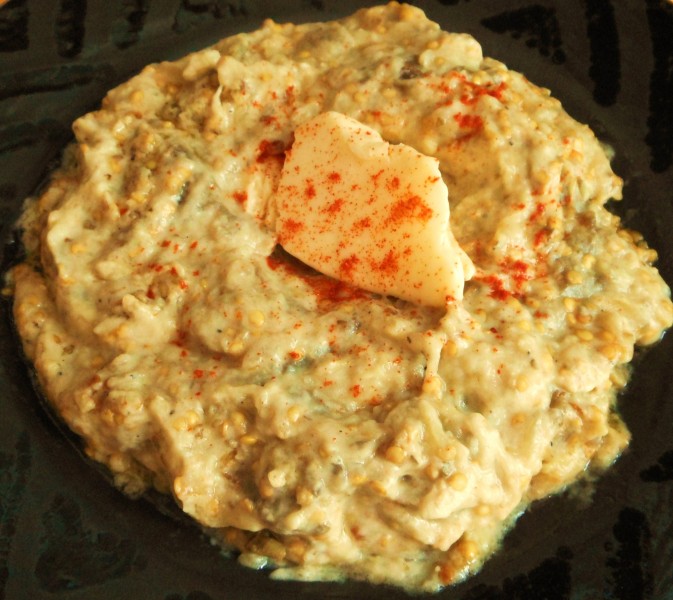 Have you ever made mashed eggplant, like mashed potatoes?
Oh, my!  I hadn't–I don't know if anyone has–but I was watching "Essential Pepin" on the Create channel recently, and his show was devoted to the humble potato.
First up: mashed potatoes.  I thought, "Really?  Who doesn't know how to make mashed potatoes?"  But there was something about his French accent, his arthritic hands, and his assured grace and facility  in the kitchen that made me think his looked like the best mashed potatoes I'd ever seen.
I had no potatoes, but I had some small white and striated globe eggplants from a local farm that needed used, and I thought,"What if?"  What if, indeed!  You will love this simple take on a favorite family staple.
And, folks, this is NO time to skimp.  This is a decadent dish, so don't hold back on (vegan) butter and sour cream.  Indulge, would you?
2 pounds eggplant, skin on, cut into pool ball size chunks, placed in a large cast iron skillet, drizzled with oil, and sprinkled with a pinch of salt (it is fine for eggplant to be in about 1 1/2 layers)
3 garlic cloves, drizzled with oil, and wrapped in a small piece of foil
2 tablespoons vegan butter
2 to 4 tablespoons vegan sour cream to taste
1 teaspoon fresh lemon juice
1 teaspoon natural sugar
1/2 teaspoon dried oregano (or 1 1/2 teaspoons minced fresh oregano)
A healthy amount of sea salt to taste
Freshly ground black pepper to taste
Preheat oven to 450 degrees.  Place skillet with eggplant along with wrapped garlic in oven and roast for 25 minute or until tender, but eggplant holds its shape.  Remove both from oven and let cool until eggplant is easily handled.  Slip off the skin (compost or discard), and place flesh in a glass or ceramic bowl.  Add remaining ingredients and mash with a hand-held potato masher.  Reheat for a minute in microwave, if necessary, as you want butter to melt slowly as you mash.  Serve immediately or cool, cover, and store in refrigerator until just before serving time.  Reheat, check for seasoning, and serve.