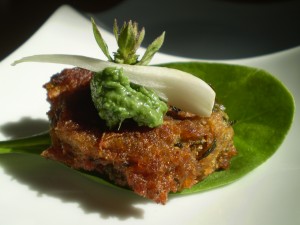 These uniquely delicious fritters proved worthy of a very special celebration.
Monday night, ten of my beloved Advanced and Advanced Placement (AP) art students gathered for an end-of-year celebratory dinner at my home.
For several years, I have marked the conclusion of each academic year for these classes with an in-school soy yogurt parfait breakfast.  This year, though, in light of the publication of my Blooming Platter Cookbook, they requested a vegan dinner party, and I was more than happy to oblige.
For starters, I served these Parsnip, Kasha and Spinach Fritters which received "extra credit" from my discriminating students.  Also on the menu were:
Indian Spiced Lentil Sloppy Joe's (I altered Food Network's Aarti Sequeira's Bombay Sloppy Joe recipe quite a bit, substituting steamed lentils for turkey and spicing them up a bit more; I will post when I've made the recipe again, and actually written down the ingredients);
Oven-Baked Three-Spice Sweet Potato Fries;
A barley, cous-cous and kasha salad featuring finely diced cucumber, red onion, basil, and lightly sauteed homegrown yellow squash-from one of my student's garden;
and TFLC Cookies (Tea-Infused Five-Spice Lime & Chocolate Cookies)–stay tuned for this slightly exotic, but simple recipe.
Over dessert, I gave out my annual certificates to the AP students.  Each one is specially illustrated and worded to reflect his or her Concentration theme and unique approach to the exploration of that theme.  This year, I also gave out gifts that the students had made each other as a last "Creative Challenge."  After drawing a classmate's name out of a basket, each student was tasked with creating a portrait of that person, i.e. a physical likeness done in the student artist's own trademark style.  Everyone loved their portraits and, as one student said, couldn't stop looking at herself!  At their request, we had an impromptu mini-critique of the artwork around the dining table; the best dinner conversation!  The pieces–not to mention the students–are priceless, as you will see (I'll post a photo soon).
They all agreed that this event should be an annual occurrence, and I concur!
To earn your own high marks for these teen- and teacher-approved fritters, here is the simple recipe:
Vegan Parsnip, Kasha, and Spinach Fritters
Yield: 36
1 cup cooked and cooled Kasha (prepared according to package directions)
1 1/2 cups cooked and cooled parsnip and onion puree (see below)
2 cups fresh baby spinach, chopped coarse-fine in the food processor
1/4 cup thinly sliced green onion
1/2 teaspoon smoked paprika
1/2 teaspoon ground cumin
1/2 teaspoon ground coriander
Pinch chipotle chili powder
Sea salt and freshly ground black pepper to taste
Optional: 1 teaspoon fresh lemon zest
Accompaniment: prepared cilantro and/or mint chutney (I purchase jars of these chutneys in a local Indian market, but any savory chutney with a contrasting color would be delicious and pretty)
Garnish: very thin slices or miniature "spears" of green onion and tiny leaves from a compatible herb (I used Thai basil buds)
Serving suggestion: place each fritter on a fresh baby spinach leaf
In a large cast-iron skillet, heat about 1/2-inch canola oil until a drop of water splattered on top sizzles.  Fry generous tablespoons of the mixture (I use a small scoop with a lever), about 9 at a time, for two minutes on each side or until golden brown.  Turn with a metal spatula.  They may feel slightly stuck on the bottom, but they will loosen easily.  Drain on paper towels, keep warm in a low oven, and serve warm or at room temperature accompanied and garnished as desired.  The fritters may be made ahead, drained, cooled, covered and reheated, uncovered, for about 10 minutes in a 350 degree oven.
Parsnip Puree:
3 medium parsnips, peeled and sliced cross-wise into 3/4-inch thick rings
1 small yellow onion, halved, peeled, and cut into 1/4-inch slices
2-3 cups unsweetened soymilk
Pinch of sea salt and freshly ground black pepper
Place parsnips and onion slices in a large cast-iron skillet.  Pour soymilk over almost to cover.  Sprinkle with salt and pepper, cover loosely, and simmer over medium-high heat until parsnips are tender, about 10-15 minutes.  Avoid letting all of moisture evaporate.  Scrape mixture, including any remaining milk (don't worry if top surface looks a little "scummy"), into the bowl of a food processor fitted with a metal blade and pulse, scraping down sides of bowl as necessary, until almost smooth.