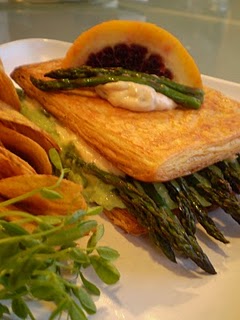 Yield: 6 sandwiches (with lots of leftover Vegan Green Pea Hummus)
I created this "go green" sandwich for my "Veggie Table" column in the Virginian-Pilot, as it was published on St. Patrick's Day, though it can be enjoyed whenever asparagus and peas are at their peak. If you can't get fresh peas, frozen ones work just fine.
The Food Network's Giada de Laurentiis's use of puff pastry as the "bread" in her double-decker chicken and avocado sandwich inspired may approach, though I opted for only one layer because, while puff pastry is free of animal products, it is fairly rich and high in calories. So two pieces per sandwich are plenty. Her technique of baking the pastry between two baking sheets prevents it from puffing so that it lends itself perfectly to sandwich-building.
For my meat- and dairy-free green-on-green filling, I pair homemade Vegan Green Pea Hummus with skinny roasted asparagus. A thin layer of my Vegan Orange-Chipotle Mayonnaise adds just the right kick of heat and citrus to complement the veggies. Like any sandwich worthy of the name, this one can be eaten with your hands, but is quite a bit neater with a knife and fork. Enjoy it served with fresh raw pea shoots as a side garnish along with some plantain chips. My favorites are spiked with chili, lime and salt and are available locally at Hispanic markets.
Vegan Green Pea Hummus
12 ounces Silken firm tofu
16 ounces fresh or frozen peas, thawed
Zest of one lemon
Garlic and onion powder to taste (about ¼ teaspoon each)
Coarse sea or kosher salt to taste
Freshly ground black pepper
Optional: 2 generous tablespoons nutritional yeast
4 tablespoons olive oil
Combine first 7 ingredients in the bowl of a food processor fitted with a metal blade. Puree until almost smooth and then drizzle in olive oil until very smooth. Refrigerate covered.
Vegan Orange Chipotle Mayonnaise
1 generous tablespoon vegan mayonnaise
2 generous tablespoons vegan sour cream
1-2 teaspoons adobo sauce, to taste (from a can of chipotle chilies in adobo found on the international aisle of some grocery stores and in Hispanic markets)
Zest of one orange
In a small cup or bowl, whisk together all ingredients until well combined. Refrigerate covered. Puff Pastry "Bread" Slices 1 box of Pepperidge Farm puff pastry, thawed according to package directions Preheat oven to 400 degrees. Line one baking sheet with Silpat or parchment paper and have another baking sheet and Silpat or piece of parchment paper ready. Unfold both sheets of puff pastry and cut each lengthwise along the fold lines into three strips and then crosswise into three equal pieces. (Each sheet should make six approximately 3 x 5" rectangles.) Arrange the 12 rectangles of pastry on a baking sheet, not touching. Prick the tops of each one with a fork. Cover with the remaining Silpat or piece of parchment paper and top with second baking sheet. (This will prevent the puff pastry from "puffing.") Place on rack in the lower third of your oven and bake for 20-25 minutes or until golden brown. Remove to a rack and allow to cool almost to room temperature. Meanwhile prepare and roast asparagus.
Roasted Asparagus
1 tablespoon of olive oil
1 bunch of, preferably, ultra thin asparagus, rinsed, drained and trimmed into approximately 5-inch pieces (thicker asparagus works, but is not quite as nice or easy to eat in a sandwich; you might slice it in half lengthwise before roasting)
Coarse sea or kosher salt to taste
Pour olive oil into a roasting pan. Add asparagus, toss lightly to coat, and sprinkle with salt to taste. Place on a rack above puff pastry and roast for 10-15 minutes, stirring once, until tender, but beginning to wither and develop slight caramelization. Remove from oven and allow to cool slightly. Assembly: Spread a nice layer of Vegan Green Pea Hummus on half of the puff pastry slices. Top each with 1/6th of the asparagus. Turn the remaining puff pastry slices upside down and spread with a thin layer of the Vegan Orange-Chipotle Mayonnaise. Then place them, mayo side down, on top of each sandwich. Serving suggestion: fresh raw pea shoots and plantain chips seasoned with chili, lime and salt (available at Hispanic markets)