I decided to end Vegan MoFo 2011 on a sweet note.
But, first, speaking of sweet…
A big thank you is in order to Isa and all the good folks who are the driving force behind Vegan MoFo.  Thank you so much for continuing to feed this fire and for making it so easy, not to mention gratifying, for all of us vegan bloggers and many, many readers to participate.  What a beautiful thing.
Though MoFo officially ends today, I will still be here offering new recipes several times a week to Blooming Platter readers and subscribers.  So I invite you to subscribe if you haven't already.  It's now easier than ever and you can do it via email, no rss feed necessary.  Just look over at the top of the right-hand sidebar and follow the simple prompts.
And now a sweet for the sweet, but, not so sweet that you couldn't serve this warming dish for a fall breakfast or brunch, which is how I first enjoyed it.
I grew up loving my mother's biscuit-style Strawberry Shortcake which, incidentally, she would sometimes allow my sister and me to enjoy for breakfast.  So, my fall version of this treat is based on a sweetened pumpkin biscuit.
And it's topped with a quick and spicy apple and walnut saute.  Your kitchen will be perfumed with some of the best fragrances of fall.
Yield: 4 Servings
Note: the following is the Herbed Biscuit recipe from my new Blooming Platter vegan cookbook without the herbs, but with the addition of dehydrated pumpkin powder and a little natural sugar.  Just click here to order the dehydrated pumpkin from Barry Farm.  I am partial to it rather than pumpkin puree, as it adds lots of flavor and golden color, but no additional un-needed nor unwanted moisture which requires additional flour and, hence, a heavy biscuit.  However, if you have a vegan pumpkin biscuit recipe you like, feel free to substitute.  Just add about 2 tablespoons of natural sugar to a cup of flour. 
My special biscuit method requires freezing the vegan butter and shortening, so don't forget to pop it in the freezer the night before you plan to make them.  And I highly encourage taking the tiny bit of extra time to employ my modified french puff pastry folding method.  You won't believe how buttery and flaky the two together will make your biscuit-shortcakes.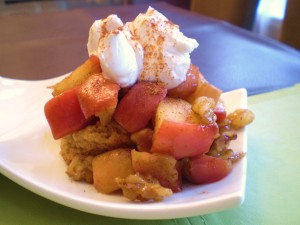 Pumpkin Shortcakes
Note: this recipe makes about 10 biscuit-shortcakes, more than you need, but they are delicious plain and reheat nicely, so I predict you'll be glad to have them on hand.
1 tablespoon apple cider vinegar
1 cup plain or unsweetened soy milk
1 1/2 cups self-rising flour (or 1 1/2 cups all purpose or white whole wheat flour + 1 tablespoon baking powder)
1/2 cup dehydrated pumpkin powder (I use Barry Farm brand–it's like a fragrant golden powder)
3/4 teaspoon baking powder (add only if using the self-rising flour)
1 tablespoon pumpkin pie spice (or your own mix of ground cinnamon, clove and nutmeg to taste)
1/4 cup natural sugar
4 tablespoons frozen vegetable shortening
4 tablespoons frozen vegan butter + 2 tablespoons refrigerated vegan butter (I like Earth Balance)
Warm Spiced Apple Filling (recipe below)
About 1/4 cup of your favorite vegan whipped topping, sweetened cashew cream, or even vegan sour cream and a sprinkle of ground cinnamon
1. Preheat the oven to 425 degrees F.  In a small bowl, whisk the vinegar into the soy milk and set aside.  In a large bowl, combine the flour, baking powder (3/4 teaspoon if using the self-rising flour and 1 tablespoon if using all purpose or white whole wheat), pumpkin powder, pumpkin pie spice, and natural sugar, and stir with a fork to combine.  Make a well in the center.  Spray your box grater very lightly with nonstick spray for easier clean up and then grate the frozen shortening and frozen vegan butter into the well.  Whisk the soy milk mixture and add it to the well.
2.  Incorporate the wet into the dry ingredients by stirring with a fork so that the warmth of your hands doesn't melt the shortening and butter.  Place the remaining 2 tablespoons of butter in a 9-inch square pan and place it in the oven to melt the butter.  Remove the pan as soon as the butter has melted.
3.  On a lightly floured work surface, pat or roll the dough to about 1-inch thick (1/4-inch thicker than for my biscuits).  Fold it like a business letter: fold one side two-thirds of the way across and fold the remaining 1/3 back across.  Pat or gently roll the dough out to a 1-inch thickness again, turn it a quarter turn and repeat about 4 more times.  Do this fairly quickly so that the dough doesn't warm up.
4.  Lightly flour the work surface as necessary.  The last time you pa the dough to a 1-inch, cut out biscuits wih a 2-inch biscuit, cookie cutter or drinking glass.  Place each biscuit in the prepared pan and flip to coat both sides with melted butter.  Bake the biscuits for about 15 minutes or until golden brown.   While biscuits bake, make filling (recipe below).
5.  When cool enough to handle, either place a biscuit on each of 4 plates; top with 1/4th of the Warm Spiced Apple Filling; garnish each serving with a tablespoon of vegan whipped topping, sweetened cashew cream, or vegan sour cream and a light dusting of ground cinnamon; and serve warm.  Or, split the biscuits and place 1/8th of the filling inside and another 1/8th of the filling on top, garnish, and serve.  Save the remaining 6 biscuits in an airtight container for another use.
Warm Spiced Apple Filling
1 tablespoon vegan butter (I like Earth Balance)
1/4 cup + 2 teaspoons chopped walnuts
2 medium apples (I like our local Winesaps), cut into 1/4-inch dice
1/4 cup natural sugar
1/4 cup ground cinnamon or to taste
1/4 cup ground ginger or to taste
1/8 teaspoon ground clove or to taste
1 tablespoon maple syrup
In a large cast iron skillet over medium-high heat, melt butter.  Add walnuts and toast, stirring frequently for about 3 minutes or until lightly toasted.  Remove nuts to a paper towel-lined saucer.  Add apple, natural sugar, and spices.  Saute for about 3 minutes or until apples soften.  Add maple syrup and cook another minute or two until apples are very tender.  Add all but 1 tablespoon of walnuts, stir, and heat through.  Remove from heat and use as directed above.