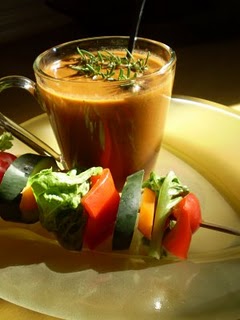 Yield: 4 servings
A clever recipe for salad-on-a-stick in a recent issue of the Food Network Magazine inspired my slightly altered version. Because I decided to make a luscious tomato vinaigrette for dunking, I substituted red bell pepper chunks for cherry tomatoes on the skewers. And I also substituted folded Romaine leaves in place of the recommended iceberg wedges because the former looked especially good at the market. This fun salad might even have kids (and adult partners) wanting to eat their veggies.
4 long wooden or metal skewers
Salad:
12 cucumber slices, about ¼-inch thick, cut on the diagonal
12 carrot slices, about ¼-inch thick, cut on the diagonal
12 small to medium Romaine lettuce leaves
1 red bell pepper, quartered lengthwise, cored, and each quarter cut crosswise into three pieces
String ingredients onto skewers in the order listed above. Repeat three times per skewer. For the lettuce, cut or break off any tough part of the stalk end and fold the leaves over vertically and horizontally before spearing with the skewer. Note: you can substitute any veggies of your choice, including small wedges of iceberg lettuce for the Romaine.
Roma Tomato Vinaigrette:
3 Roma tomatoes, quartered
3 tablespoons balsamic vinegar
5 tablespoons olive oil
1 teaspoon Dijon mustard
Leaves from 5-inch stalk of rosemary
Pinch sugar
Kosher or sea salt and freshly ground black pepper to taste
Place all ingredients in the bowl of a food processor fitted with a metal blade and process until smooth. Pour into a serving vessel, cover, and refrigerate until serving time. May be made in advance.