Yield: 8 tacos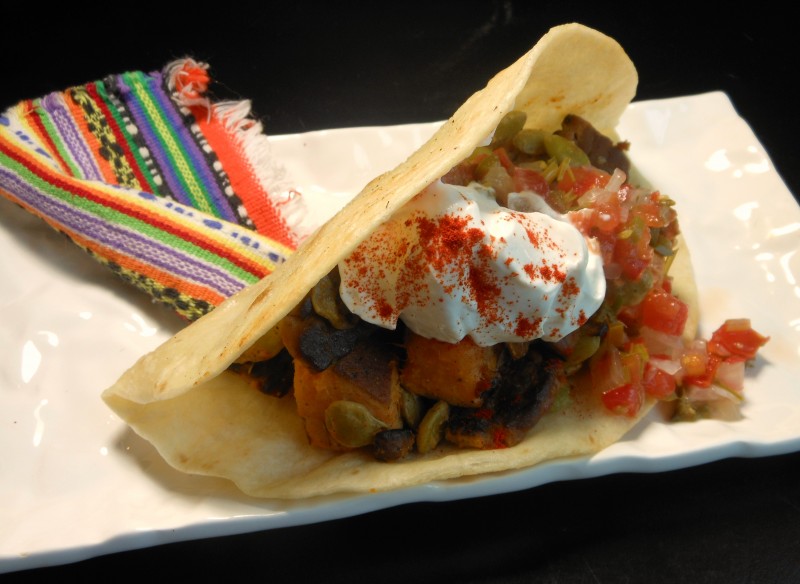 I hail from the American South… make that the Deeeeeep South.  Though I have lived in Virginia longer than I have lived anywhere else, my earliest culinary roots were in MS with a side of TX.
Down there, folks like their butterbeans cooked slow and long, just like they tell their stories.  They cook their peas and beans with what will go unmentioned here, but think cute pink snout.
With beautiful local butterbeans and sweet potatoes (kept in cold storage until summer) in my Saturday farm market bag, and having recently dined on vegan Mexican food, I woke up last Sunday morning thinking that a butterbean, sweet potato, and tempeh "bacon" hash stuffed in a taco shell would be some 'kinda good for dinner.  And I was right!
If I had had corn tortillas, I would have used them for the taco shells as a reference to cornbread, de rigeur in the South for sopping up butterbean "pot liquor."  But, alas, all I had was flour ones leftover from our restaurant meal, and the end result was still delicious.
While virtually any salsa would be delicious–tomato or corn or why not tomato and corn?–just keep the volume turned down a bit on the heat, so as not to overwhelm the other flavors.  Still, it's customary for southerners to enjoy their beans and peas with a hot pepper chow-chow, so I recommend some salsa for a little kick-me-up.
This is one heck of an easy and tasty recipe, regardless of where you live!
1 pound sweet potato, diced (I leave the skin on)
2 cups fresh, raw butterbeans
2 large bay leaves (or 4 small)
Sea salt
2 tablespoons canola oil
8-6 inch tortilla shells (corn or whole wheat)
7 ounces tempeh "bacon" (I use a variety called Tempeh Smoked Maple "Bacon")
1/4 cup vegan sour cream (I use Tofutti Better Than Sour Cream)
1/2 teaspoon smoked paprika
1/2 teaspoon dried thyme
Pinch freshly ground black pepper
Garnish: 1/4 cup vegan sour cream, 1/4 cup salsa (homemade or prepared), 1 teaspoon smoked paprika
Optional:  8 lime wedges
Place sweet potatoes and butterbeans in a large microwave safe bowl, add bay leaves and salt, cover with plastic wrap, and cook at full power for 10 minutes or until tender.  Drain.  (Alternatively, you may simmer the potatoes and beans, partially covered, on top of the stove until tender, adding 5 to 10 minutes to the cooking time, if necessary.)  Heat oil in a large cast iron skillet over medium-high heat.  Fry tortillas, loosely folded in half, 3 to 4 at a time for a couple of minutes on each side, or until lightly golden.  Drain on a paper towel-lined plate and keep warm while preparing filling.  In same skillet, fry tempeh bacon for a couple of minutes on each side, or until crispy, reducing heat if cooking too fast.  Quickly, with the end of a spatula or even side of a fork, cut each tempeh strip into bite-size pieces.  Add the drained sweet potatoes and butterbeans, and saute, stirring continually and gently, for 2 to 3 minutes to combine flavors.  Fold in the 1/4 cup sour cream, smoked paprika, thyme, and black pepper, and heat through.  Adjust seasoning, including salt, if necessary.  Serve 1/8th of filling in each taco shell garnished with approximately 1/2 tablespoon salsa, 1/2 tablespoon vegan sour cream, a pinch of smoked paprika and, if desired, a lime wedge.