Yield: 48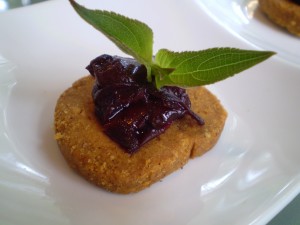 crackers and 1 cup of marmalade
This pairing was inspired by those old-fashioned cheddar shortbread crackers kicked up with a little cayenne and served with pepper jelly in kitchens across the South.  
With tomatoes and blackberries at the peak of freshness at a local farm market, I created this glistening marmalade to showcase them both in place of the pepper jelly.  Thinking of Chinese dishes with tomatoey and fruit-infused sauces, I decided to combine the two with some hints of Asia to transform my farm market haul.
My take on the ubiquitous cheddar shortbread gets its rich flavor from smoked almonds and nutritional yeast, which may seem a little odd given the Asian direction of the marmalade, but there was a method to my madness, namely that almonds are frequently used in Chinese cooking.  What about the smokiness?  I have an answer for that too: smoked tofu sometimes seen on Chinese menus.  Does it work?  My lunch guest and I think so, but you be your own judge.  
Vegan Smoky "Cheddar" Shortbread Crackers
1/2 cup smoked almonds (feel free to use plain almonds–or any nut really–if you prefer not to have a smoky taste)
2 cups white whole wheat flour or 1 cup unbleached all-purpose and 1 cup whole wheat flour (you can also try using all whole wheat flour, though I've not tested it that way)
1/2 cup nutritional yeast
1 teaspoon sea salt
1 teaspoon sweet paprika
1/4-1/2 cayenne pepper or to taste
1/4 teaspoon onion powder
1/4 teaspoon garlic powder
1 cup vegan butter, broken into small pieces
Accompaniment: Vegan Asian-Scented Tomato-Blackberry Marmalade or your favorite marmalade, pepper jelly, or chutney.
Place almonds in the bowl of a food processor fitted with a metal blade, and pulse a few times until coarsely chopped.  Add remaining ingredients, in order, and then continue pulsing until dough pulls away from the sides and starts to come together in a ball.  Divide dough into quarters, knead each one a few times in your palms, and then roll into a cylinder 1 1/4 inches in diameter.  Wrap each in plastic wrap and set on a plate or baking sheet in the refrigerator for at least an hour or up to 3 days.  (May alternatively be frozen for a month and thawed before slicing and cooking.) Preheat oven to 350 degrees.  Line one or two baking sheets with Silpat or parchment paper.  (If one, bake in two batches.)  With a sharp knife, cut logs into 1/3-inch slices and place coins 2 inches apart on prepared baking sheets.  Bake about 20 minutes or until lightly browned.  Cool 1 minute on the sheet and then remove to wire racks to cool completely.  Store in airtight containers.  Serve with desired accompaniment.
Vegan Asian-Scented Tomato-Blackberry Marmalade
1 tablespoon olive oil
1 small yellow onion, but into 1/4-inch dice
pinch of sea salt
generous 1/2 cup grape tomatoes, rinsed, drained, and quartered
2 large garlic cloves
1 inch piece of ginger, peeled and finely grated (I use a microplane grater)
1/2 cup red table wine (or a non-alcoholic variety)
1/4 cup natural sugar
2 teaspoons Chinese mustard (I like the "extra hot")
1 tablespoon vegan fish sauce (sold as vegetarian fish sauce in Asian markets)
1 teaspoon soy sauce (I use a low sodium variety)
1/4 teaspoon sweet Paprika
generous 1 1/2 cup fresh blackberries, rinsed and drained
2 star anise pods
sea salt and freshly ground black pepper to taste
In  a large cast iron skillet over medium-high, heat olive oil to shimmering.  Add onion and a pinch of salt and saute, stirring frequently, until some color develops, approximately 3 minutes.  Add tomatoes, garlic and ginger, and saute, stirring frequently, until tomato begins to break down, approximately another 3 minutes.  Add remaining ingredients except blackberries and simmer, stirring occasionally, an additional 3 minutes.  Add blackberries and simmer, stirring occasionally for another 15 mnutes or until blackberries break down and mixture becomes pulpy.  Reduce heat if necessary to prevent from sticking or scorching.  Remove the skillet from the heat and cool to room temperature.  Serve about 1 teaspoon dolloped on each cracker.  Store any leftovers in the refrigerator in an airtight container.