I'm a MoFo Virgin.  Hold on…get your mind out of the butter, I mean gutter.  Well, same thing.  Anyway, it's just that today is the first day of "Vegan MoFo 2011," that's "Vegan Month of Food" for any neophytes out there, and it is my very first time to participate.
Click the link to visit the official Vegan MoFo Headquarters where you can learn more and subscribe to the feed…and we do mean feed!
Simply put, Vegan MoFo is a month-long celebration of vegan cooking and eating.  Around the globe, vegan bloggers will be posting as much and as often as they can about vegan food.  And you can be privy to it all by subscribing.  You can also search Vegan MoFo online, as many bloggers, like me, use that category or tag.
Many thanks to vegan guru and cookbook author, Isa Chandra Moskowitz, and her Post Punk Kitchen for launching and maintaining Vegan MoFo.   Isa and her team make it so easy to participate, even providing the cool banner (above) at no charge  and with just a click to download–no copying of code into the bowels of one's blog program–whew!
And now let the feast begin, quickly before the last of summer's zucchini had withered up…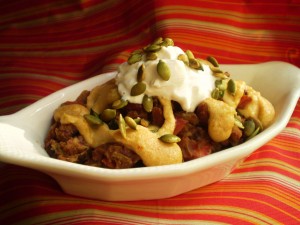 Yield: 4 servings (you will have leftover beans and cashew cream, but you won't mind a bit!)
Plan to start making the Cashew Cream the day before you want to use it, as the cashews need to soak overnight.
Paprika-Lime Cashew Cream
3 cups raw cashews, divided in half  (I buy Trader Joe's reasonably affordable organic cashews)
1 1/2 cups water
1 teaspoon nutritional yeast
1/4 teaspoon smoked paprika
Pinch of garlic powder
Sea salt to taste
Pinch of white pepper (black is fine; it just shows up more)
Zest of 1 small lime + juice of half of the lime
First make basic cashew cream:  Place 1 1/2 cups of cashews covered with water in an airtight container and let soak, refrigerated, overnight.  The next day, rinse and drain the cashews in a colander, and place into the bowl of a food processor fitted with a metal blade.   Add remaining cashews and process until smooth, scraping down sides of bowl as necessary.  The processing will take several minutes.  Remove a generous cup of the cream to a small bowl.  Transfer the remaining cream into an airtight container, and store in the refrigerator for another use.  (Adding a little sugar, vanilla and lime zest makes a lovely cream topping for sweet dishes.)  To the cup of cream in the bowl, whisk in the remaining ingredients.  Cover and refrigerate until ready to use.
Begin making beans early in the day, as they will need to soak;
1 pound bag of Anasazi beans (pinto beans or something similar would also work great)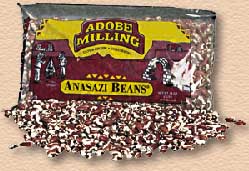 10 cups of water, divided into 6 and 4
1 tablespoon of salt + more to taste
2 bay leaves
3 cloves garlic, minced
1/2 cup vegan beer or nonalcoholic beer (not all brands are vegan)
1/2 cup diced tomatoes (canned or fresh)
1 tablespoon cumin
1 tablespoon dried oregano
1 teaspoon chipotle chili powder (you can use any chili powder you like, but I am especially fond of the characteristics of chipotle powder)
1 tablespoon of olive oil
1/2 of a medium yellow onion, cut into 1/4-inch dice
1 zucchini
Pinch of sea salt
1 medium tomato, cut into 1/4-inch dice
1 cup of Smoked Paprika-Lime Cashew Cream (recipe above)
Optional garnish: vegan sour cream, cilantro sprigs or chopped cilantro, and/or roasted pumpkin seeds
Bring beans and 6 cups of water to boil over medium-high heat in a covered 4-quart saucepan.  Reduce heat and gently boil for 30 minutes.  Turn off heat and let beans sit for about 6 hours.  Add remaining 4 cups of water, tablespoon of salt, bay leaves, and garlic, and gently boil uncovered for about 1 hour and 15 minutes or until most of the water is evaporated.  During the last half hour, add the beer, the 1/2 cup of diced tomatoes, and the cumin, oregano, and chipotle chili powder.  Adjust heat as necessary.  The bean mixture should be quite soft and creamy, but the beans should still hold their shape. Check for seasoning and adjust to suit your taste.
Meanwhile, heat the tablespoon of olive oil to shimmering in a large cast iron skillet over medium-high heat.  Add onion, zucchini, and salt and saute, stirring frequently, for about 5 minutes or until softened and beginning to develop some color.  Remove the pan from the heat and stir in 2 cups of the bean mixture plus the diced fresh tomato.  Cover and refrigerate remaining bean mixture for another use.
Preheat oven to 350 degrees.  Oil 4 gratin dishes and divide bean mixture evenly among them.  Drizzle-dollop one-quarter of the Smoked Paprika-Lime Cashew Cream over each serving.  Place the dishes on a baking sheet for easy transport, slide the sheet into the oven, and bake for 20 minutes.  Serve hot dolloped with vegan sour cream and sprinkled with cilantro and or roasted pumpkin seeds if desired.
For more than 150 additional mouthwatering recipes to celebrate all year long, I invite you to check out The Blooming Platter Cookbook: A Harvest of Seasonal Vegan Recipes.