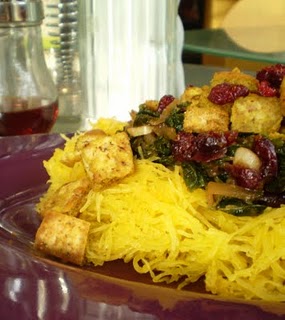 Yield: 8 servings (easily halves; just use second half of squash for another recipe)
This healthy and colorful dish of yellow, green and red is full of the flavors of the season and is a beautiful addition to the holiday table. The slight bitterness of spaghetti squash is tempered with a bare hint of olive oil and maple syrup. And, similarly, any bitterness associated with kale is offset by the sweetness of caramelized onions and dried cranberries, with a tiny bit of tang provided by balsamic vinegar, and earthiness from nutritional yeast and marjoram. A mere two tablespoons of soy creamer gives the greens a texture that contrasts nicely with the al dente spaghetti squash, while crunchy curried croutons and a sprinkling of a few more dried cranberries are the perfect finishing touch for a perfectly delicious dish.
Spaghetti Squash:
1 spaghetti squash, halved, seeds and pulp removed
2 teaspoons olive oil
2 teaspoons maple syrup
coarse sea or kosher salt to taste
Oven Method: Preheat oven to 375 degrees. Place squash, cut side down, in an oiled baking dish and roast for 45 minutes. Microwave Method: Cook one half at a time by placing squash, cut side down, in a microwave safe dish with 1/4 inch water. Cook for 7-10 minutes. Repeat with other half. When cool enough to handle, use a fork to scoop out squash threads, working from the shell to the center. Toss with olive oil and maple syrup and season to taste with salt.
While squash cooks, make greens:
2 tablespoons olive oil
1 medium-large yellow onion, halved, peeled, and cut crosswise into thin slices
3 medium-large garlic cloves
coarse sea or kosher salt to taste
8 ounces chopped kale (you can use other greens; adjust cooking time accordingly)
freshly ground black pepper to taste
4 tablespoons dried cranberries
1 tablspoon unbleached all-purpose flour
1 tablespoon nutritional yeast
1/2-1 teaspoon dried marjoram
2 tablespoons plain soy creamer
2 teaspoons balsamic vinegar
In a large pot or wok over medium-high, heat olive oil to shimmering. Add onion and saute, stirring frequently, until it starts to turn golden, adding a little splash of water to speed the process. Add salt to taste. Add garlic and more water, if necessary, and continue sauteeing until golden brown. Add kale and toss until it wilts down; add salt and pepper to taste. Cook, stirring occasionally until tender, about 10 minutes. After about 7 minutes, stir in cranberries. Sprinkle with flour, nutritional yeast and marjoram, and stir well. Stir in soy creamer and cook a couple of minutes. Stir in balsamic vinegar and cook for remaining minute. Remove from heat.
While greens cook, make croutons:
2 tablespoon vegan butter (I like Earth Balance) or olive oil
1 teaspoon curry powder
2 whole wheat pita pockets, cut into 1/2-inch pieces
Preheat oven to 375 degrees. In preheating oven, melt butter in a medium-sized pan. Remove from oven and stir in curry powder. Add bread cubes and toss well. Toast in oven for about 10 minutes or until crunchy.
Garnish: a few dried cranberries
To serve dish, make a bed of spaghetti squash on a serving platter. Spoon greens into center. Top with croutons and dried cranberries.