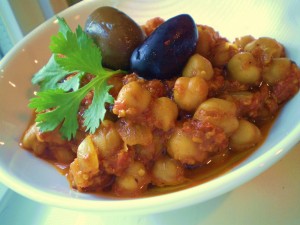 Yield: 4 servings
The fun and delicious vegan food continued to flow in California after The Blooming Platter Cookbook book-signing dinner at Millennium Restaurant in San Francisco. 
The next morning, our host Yvette Hetrick, her husband Randy, my husband Joe, and I took a TRX class at the TRX Training Center and then headed to the Napa Valley for two nights at Auberge du Soleil (think yoga each morning in The Pagode that looked out over the terraced vineyards), a belated "milestone birthday" celebration for grateful me.  
For Saturday night's dinner, Yvette had made reservations at Ubuntu, a 1 Michelin starred vegetarian restaurant in the town of Napa.   So amidst a chorus of teasing from our husbands, we set off to find this mecca of plant-based cuisine.  And it turns out that all of us–even the guys–were glad we did. 
A warm and energetic ambiance in a converted warehouse space provided the context for our stellar meal of one tapas style dish after another, most made with produce and herbs from the restaurant's organic garden.  All of the vegetarian dishes on the menu can be prepared vegan, so I went vegan while the others opted for some cheese. 
One of the vegan dishes that was a favorite of all of ours was not on the menu, but we eyed it on some other diners' table.  Happily, we were told that it was considered a bar snack but that we were welcome to order it, so order we did.  These chickpeas with Romesco Sauce were so delicious–tender chickpeas in a silken, vibrant sauce perfect for "sopping" with a little bread–that we ended up ordering them again later in the meal.   
Back here at home in Virginia, I was fantasizing about that Romesco Sauce, among many other dishes from our tantalizing meal at Ubuntu.  So first, I created my new Golden Grape Tomato Tart with Spinach Pesto and Spicy Romesco Sauce.  Afterwards, with leftover Romesco Sauce in the fridge, I decided to try the dish that inspired it all.  The key to this dish, in addition to the livelyRomesco, is the drizzle of olive oil at the finish.  By all means, if you're fortunate enough to have an opportunity to dine at Ubuntu, do!  But if not–or in between visits–I hope my dish will tide you over.
1 tablespoon olive oil
1 small onion, chopped into 1/4-inch dice
Pinch sea salt
1 medium tomato (preferably an heirloom), cut into 1/4-inch dice (a generous half-cup)
1-2 large cloves garlic, minced
1-15.5 ounce can chickpeas, rinsed and drained
1/2 cup Romesco Sauce
1/2 teaspoon smoked paprika or to taste
Freshly ground black pepper
Garnish: a drizzle of fruity olive oil, olives and cilantro sprigs
In a large cast iron skillet over medium-high, heat olive oil to shimmering.  Add onion and saute, stirring frequently, for about 3 minutes or until softened.  Cook another minute or two if you want a little color to develop.  Add tomato and garlic and cook down, stirring frequently, for another 3 minutes, or until tomato juices release and start to evaporate.  Add Chick peas and heat through, followed by Romesco sauce and smoked paprika.  Cook until mixture is hot through and thickened.  Check for seasoning and adjust with salt and pepper as needed.  Serve drizzled with olive oil–it adds just the right finish to the dish in taste, texture and appearance–and garnished with olives and cilantro.