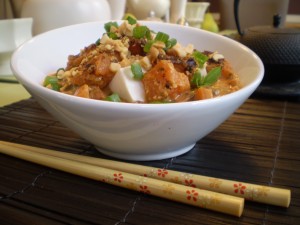 My Thanksgiving Day post is coming up, but–and I bet it is no different in your household–there is no time for carefully staging food photographs in the midst of the convivial holiday hubbub.  So, before the throngs gather today–and, in any event, with less going on in the kitchen–I hope to photograph the components of our meal.  I made one recent recipe and two brand new ones that received rave reviews, so I'm looking forward to sharing them with you.
In the meantime, though, I am excited to offer this Thai-inspired pumpkin dish.  If you follow The Platter, you know that I am all about fresh pumpkin this year, including in Asian preparations, like this one and my Vegan Miso-Roasted Pumpkin and Grilled Tofu over Udon Noodles which was featured on OneGreenPlanet.org.
Pumpkin is so agreeable to rubs, and this peanut butter riff is no exception.  Enjoy it with creamy white chunks of tofu over my silky, golden, and pleasantly spicy melange of red bell peppers, onions and chard in a coconut-red curry sauce thickened with pureed pumpkin.  Its subtle tang is courtesy of fresh lime juice and vegan fish sauce.
Yield: 4 servings
Fresh Peanut Butter-Roasted Pumpkin:
2 tablespoons smooth natural peanut butter
1 tablespoon vegan fish sauce (sold as "vegetarian fish sauce" in Asian markets)
1 teaspoon prepared Thai red curry paste
1 1/4 pounds pumpkin (this weight is with seeds and pulp removed, but the skin still on) , peeled and cut into about 3/4 inch cubes
Preheat the oven to 450 degrees.  Oil a large metal baking dish and set aside.  In a medium bowl, whisk together peanut butter, vegan fish sauce, and curry paste until smooth.  Add pumpkin and toss gently to coat.  Transfer to the prepared baking pan, spread out, place in the oven and roast for about 8 minutes.  Stir gently or flip chunks, and roast an additional 8 minutes or until lightly caramelized.  While pumpkin roasts, make sauce.  When pumpkin is finished cooking, remove the pan from the oven.  If sauce isn't quite finished, cover pumpkin to keep warm.
Vegan Thai Pumpkin and Coconut Milk Curry Sauce:
1 tablespoon olive oil
1/2 of a large onion, cut into 1/4-inch wide slivers
Pinch sea salt
1 large red bell pepper, stemmed, seeded, cut into 1/4-inch wide slivers and then cut in half crosswise
2 large garlic cloves, minced
2 cups finely chopped Swiss chard–I use the food processor for this task (about 1 bunch with thick stems removed; you may use kale or spinach instead, but the chard was lovely at our farmer's market recently)
2 tablespoons prepared red curry paste (feel free to adjust the amount to your taste)
1-15 ounce can coconut milk or lite coconut milk
1/2 cup pumpkin puree
1/4 cup vegan fish sauce
Juice of one lime
Sea salt to taste
Optional, but recommended:  1 tablespoon each finely chopped Thai basil and cilantro or to taste
Accompaniments: 12 ounces regular tofu cut into 1 inch chunks (baked, broiled or simply heated and kept warm until serving time); and 2 cups cooked Jasmine rice
Garnish: chopped peanuts,  sliced green onions, and optional lime wedges
In a large cast iron skillet or wok, heat olive oil over medium-high.  Add onion and a pinch of sea salt and saute, stirring, for about 3 minutes or until onion begins to soften.  Add bell peppers and continue sauteing for about 2-3 more minutes or until it begins to soften.  Add garlic and chard and saute for one to two  minutes or until chard is tender, but still bright green.  Add curry paste and saute, stirring, just until smooth and incorporated.  Add coconut milk and pumpkin puree, and cook until heated through.  Add fish sauce and lime juice, and stir to combine.  Check for seasoning, and add salt if necessary.  Stir in optional Thai basil and cilantro and remove from heat.  Serve sauce over cooked Jasmine rice topped with roasted pumpkin and tofu.  Garnish with chopped peanuts and sliced green onion.
For 150+ more specialties of the season, I hope you will check out The Blooming Platter Cookbook.