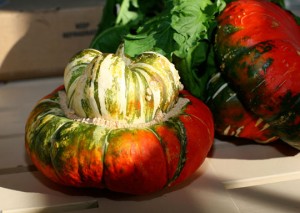 Yield: 4 servings
They're so beautiful…who knew you could eat them?!
I have always thought that Turks Turban Squash–called Mexican Hat Pumpkins by some–were strictly decorative.  Their charming form covered by skin that is truly a fiesta–or Turkish bazaar–of color and pattern has always made me smile.
Imagine my smile when someone at my farm market told me on Friday that they are not only edible but really scrumptious.  An elderly customer had just been in touting the benefits of roasting these beauties.  Convinced, I chose a smallish one just in case things didn't go so well and drove home wondering if I had a knife sharp enough to cut through it.
Turns out that I would have needed a hatchet to hack through it's tough exterior and an interior that wasn't much softer.  So, I managed to cut off and discard its top knot which housed mostly seeds and pulp, pierced the body it a few times, and then roasted it at 450 for 30 minutes.  After I let it cool just enough to handle, I cut the base into about 2 x 2-inch chunks and easily removed the skin with a paring knife.
Then I roasted it again in a little olive oil and sea salt for 20 minutes, turning after 10.  Wow…what a beautiful golden crust developed!  And finally, I dressed it with a tiny bit more olive oil mixed with a drizzle of walnut oil and balsamic vinegar.
It is delicious like that–with a flavor and texture that is a cross between a pumpkin and a potato.  But I can 't leave well enough alone, and you'll be glad I didn't…
I guess because of the name Mexican Hat, I started thinking of Pepitas and wondering if I could make a pesto with them.  And because I love butternut squash ravioli (vegan) with sage butter–and because I just generally love sage in the fall–I decided to add a bit of it from our garden.  As I developed the pesto, I ended up adding a pinch of nutmeg–which I love in the aforementioned ravioli–and a bit of chipotle chili powder as a nod in the direction of Mexico.
Thinking the mixture needed a hint of sweetness, I added a dribble of maple syrup, and then thinking it needed a pop of bright acidity, I folded in a squeeze of lime juice.  And I made sure to add exactly the right amount of olive oil to yield a pesto that would drizzle and not just dab.
I am completely excited to share with you the results that will be on my fall table from now on.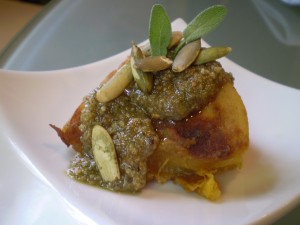 1 Turks Turban squash about 8 inches in diameter, top knot removed and discarded
2 scant tablespoons olive oil, divided in half
1 teaspoon walnut oil (or more olive oil)
1 teaspoon balsamic vinegar
Sea salt to taste
Pepita and Sage Pesto (recipe follows)
Optional garnish: a few roasted and salted Pepitas and sprigs of fresh sage
Preheat the oven to 450 degrees.  Oil a metal roasting pan with 1 tablespoon of the olive oil.  Pierce the squash all over with a sharp knife, place it in the pan, and roast it, uncovered, for 30 minutes.  Remove the pan from the oven and allow the squash to sit until cool enough to handle.  Then remove and discard the seeds and pulp and cut the squash into chunks, approximately 2 x 2-inches in diameter or just slightly larger.  Remove the skin with a paring knife and discard.
Return the oven to 450 degrees if you turned it off, and place the squash chunks into the roasting pan.  Drizzle them with the remaining 1 tablespoon of the olive oil, sprinkle with salt, and toss to coat.  Roast for 10 minutes, turn each chunk, and roast for another 10 minutes or until a beautiful golden crust develops where the squash has been in contact with the pan and the flesh is tender, but not mushy.    When the squash is tender and golden, remove the pan from the oven, sprinkle the squash with walnut oil and balsamic vinegar, toss very gently, and then remove the squash to a serving platter. Drizzle the golden chunks with Pesto, garnish with Pepitas and/or fresh sage sprigs, and serve immediately, passing a small bowl of any remaining pesto.
While squash roasts, make Pesto.
Vegan Pepita and Sage Pesto:
1/2 cup roasted and lightly salted Pepitas (I buy Trader Joe's brand)
1 medium clove of garlic, peeled
8 fresh sage leaves
1/8 teaspoon of ground nutmeg (freshly grated is especially nice)
1/8 teaspoon of chipotle chile powder
1/2 cup olive oil
1 teaspoon maple syrup
juice of 1/2 of a small lime
Sea salt to taste (I like a "goodly" amount in this)
Place Pepitas, garlic, sage, nutmeg and chili powder in the bowl of a food processor.  Process until a coarse paste forms.  With the motor running, add olive oil in a steady stream until the mixture is pulpy-smooth.  Turn off the motor.  Add maple syrup, lime, and salt to taste, and pulse just two or three times to combine.  Adjust seasoning if desired, and use immediately or store, covered, in the refrigerator.  Allow to come to room temperature or heat slightly before serving.