I love my Kale, Walnut, and Rosemary Pesto, but I've enjoyed so much of it recently, that I wanted to transform it just enough to be a fresh take without taking away from its beautiful balanced flavors.  So I decided to combine it with some soy creamer and use it as a sauce to coat golden butternut squash and chewy-tender tubes of whole wheat penne pasta.
Roast the butternut squash in advance so it's ready to go when you are ready to eat!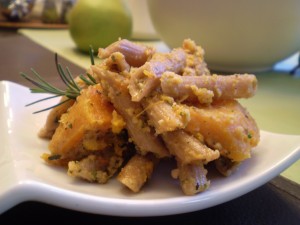 Yield 4 servings
8 ounces whole wheat penne pasta
1 cup Vegan Kale, Walnut, and Rosemary Pesto
1/2 cup plain soy creamer
2 cups 1-inch pieces of roasted butternut squash (Halve squash lengthwise, remove seeds and pulp, cut into pieces, toss with a tiny bit of olive oil, and roast approximately 20 minutes in a 450 degree oven, stirring after 10 minutes.  I find it easier to peel it when it is cool enough to handle, but you can peel it before roasting.)
Sea salt and freshly ground black pepper to taste
Optional garnish: sprigs of fresh rosemary
In a large pot of boiling, generously salted water, cook pasta just until al dente, about 8 minutes.   Meanwhile, in a medium bowl, whisk together pesto and soy creamer.  If you want the sauce to be a little looser, whisk in olive oil, a tablespoon at t time, until desired consistency is reached.  When pasta is cooked, drain, return to pot, and place over medium heat.  Immediately add sauce and toss together quickly.  Then add butternut squash and toss gently again.  Check for seasoning and adjust as necessary with sea salt and freshly ground black pepper.  Remove the pot from the heat and serve the pasta immediately topped with sprigs of rosemary if desired.