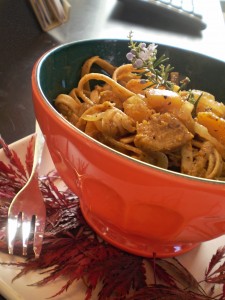 This recipe is a favorite among my recipes on Cookstr (the World's No. 1 Collection of Cookbook Recipes Online!).
And here, in VA Beach, the weather has finally turned cool, so warming up with my Vegan Sage-Scented Fettuccine with Butternut Squash from The Blooming Platter Cookbook is on the menu.  A brand new butternut squash from a trip to the farmers' market last weekend awaits!
Below I offer a little sneak preview of the recipe, one of several holiday "gifts" I'll be offering this month.  Enjoy!
Sage-scented Fettuccine with Butternut Squash
Yield: 4 servings
This light recipe places golden squash center stage and uses just enough pasta to hold the dish together. I recommend using whole wheat pasta, as its nuttiness contributes significantly to the distinctive flavor of this dish.
2 tablespoons olive oil, divided
1 pound butternut squash, peeled, seeded, quartered lengthwise, and cut into 1/4-inch thick slices
Sea salt
1 cup vegetable stock
1 yellow onion, halved and cut into 1/4-inch slices
1/4 cup white wine
1 tablespoon maple syrup
1 tablespoon balsamic vinegar
2 teaspoons rubbed sage
4 ounces whole wheat fettuccine (or pasta of choice)
2 tablespoons nutritional yeast
Freshly ground black pepper
Fresh sage leaves, optional
1. Heat 1 tablespoon of the oil in a large skillet over medium-high heat. Add the squash, sprinkle with salt, and cook for 5 minutes. Don't worry if the squash starts to break apart. Add the vegetable stock and cook, still stirring gently until the liquid is almost evaporated, about 7 minutes.
2. Add the onion and season with a little more salt. Cook until the onion begins to soften, 3 minutes. Add the wine, and cook until moisture is almost evaporated and mixture is caramelized. Stir in the maple syrup, vinegar, and sage. Keep warm.
3. Cook the pasta in a pot of boiling salted water until tender, about 10 minutes. Drain the pasta and return it to the hot pot. Add the remaining 1 tablespoon oil, the nutritional yeast, and salt and pepper to taste; toss to combine. Add the vegetable mixture to the pasta and toss again to combine. Serve hot garnished with fresh sage leaves, if using.
For 150+ more seasonal specialties, including ones appropriate for the holidays, I invite you to check out my cookbook.  A great holiday present, it's the gift that gives all year long!