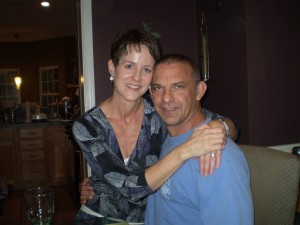 This Thanksgiving was surely one of the best in recent memory, if a bit bittersweet.
In 1991, the year after my husband and I got married and moved to Virginia, we began a tradition of hosting the Thanksgiving celebration for both of our families.  Over the ensuing two decades, our families changed and grew with everyone welcome, though busy lives, blended families, and family responsibilities to aging relatives meant that not everyone could come every year.  However, some years, we happily picked up an aunt or two and a good family friend.  More recently, both Joe's and my mothers experienced increasing health issues to the point that his couldn't travel for the last two years and mine couldn't travel last year, so we went to our respective homes for the holidays in 2010.  Sadly, Joe's mother passed away last April (and had been predeceased a few years by his father), but my mother rebounded.  So this year, nine of our clan once again gathered here to revive the tradition.
It was a joyful day of cooking and visiting.   Our niece Gabriella and Joe's Aunt Cathy stayed with us, with everyone else in beachfront hotels.  Before everybody woke and/or came over, I sprung out of bed and cleaned out our kitchen and garage refrigerators so we would have a clean slate.   The result was two sparkling fridges and an entire dishwasher load of food storage cartons.   Cathy dried every single one of them (I don't run the heated dry cycle on the fridge to save energy) and she somehow kept up with the food prep dishes and tools all day, as I hand wash a lot of them either because they are special or because they will be reused.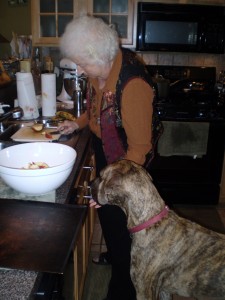 With the great fridge clean-out and a nice dog walk with Gab and Cathy under our belts, my parents and sister arrived and we all eased into a nice leisurely five hours of food preparation.  Joe and his sisters went to the gym, stopped by to say "hi," and then headed to their hotel suite, complete with kitchen, to see about their contributions, returning around 4 p.m. with them in tow for the feast.
Meanwhile, at home, our house guests and my family were wonderfully helpful and conversant kitchen companions, easily moving in and out to offer help as needed.  And plenty was needed, as the only preparation my sister and I had done the day before was to make the dessert–Cranberry Crunch, a longtime family favorite–and a pan of cornbread for the dressing.  My dad turned out to be the ace pumpkin cleaner and peeler.  Doing that for a crowd is a bit of a chore, but was so much more enjoyable with my papa.
When we sat down to dinner my husband said he was surprised that there was nothing green on the menu.  He was right: there were no green vegetables!  But that was somewhat by design, as there simply wasn't anything other than collards and broccoli at my go-to farmer's market, and I didn't have a particular hankerin' for either.  But the market did have beautiful pumpkins and butternut squash, so I served both.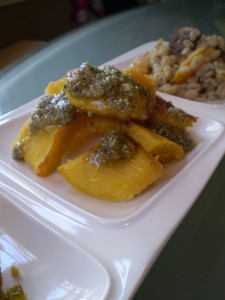 Let's begin with a recipe I've featured here on The Blooming Platter before:  Roasted Pumpkin with Pepita and Sage Pesto.  It is loved by many, including former pumpkin haters.  And, after introducing it to our Thanksgiving guests this year, it has even more fans.  Simply click on the link to access the recipe.  Note that, for Thanksgiving, I used six small striped pumpkins about 6 inches in diameter (see photo below) instead of a Turk's Turban Squash and doubled the pesto recipe to serve 10 to 12 people (with other side dishes).  But we prepared the pumpkins the same way: roasting them for a little bit before removing the seeds, pulp, and peel; cutting it into chunks; and then roasting the chunks again for 17-20 minutes, or 8-10 minutes on each of two sides.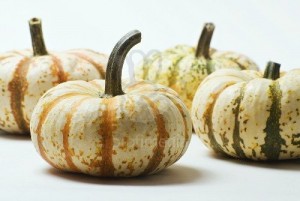 Be sure to check out my three remaining Thanksgiving posts for my Apple-Roasted Pecan Dressing and Barley with Sauteed Butternut Squash and Baby Bellas plus my sister-in-law's Cranberry-Orange Relish with Ginger and Walnuts and Aunt Cathy's Caponata.
And for even more seasonal specialties, I hope you will check out The Blooming Platter Cookbook, great for everyone on your holiday gift list.