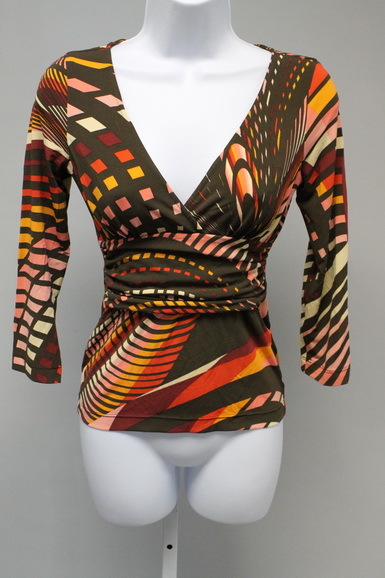 I have some new recipes coming soon…I've just been waiting for a sunny day–when I was home before dark–to photograph them.  And you'll love these flavorful dishes!
But in the meantime, I wanted to share my latest find by way of encouraging fashionable recycling if you're not already hooked.  I am an unabashed consignment shopper.  On the other hand, I'm not wild about clothes shopping in thrift stores generally speaking, but I have occasionally gone in looking for something for  my art classes and emerged with something like a fabulous pair of Impo shoes.  Recently, I've struck gold purchasing "like new" clothes and shoes from eBay.
This gorgeous  BCBG top that I bid on  last Saturday became mine last night as I just learned this morning when I logged in.  Whew, that was a long time to wait to score a win!  But worth it, don't you think?  I love its beautiful fall colors that are zippy rather than earthy-drab.  This item happened to be new with tags and an original price of $98.  (For a knit top?  Really?  Even a gorgeous one?)  My uncontested bid of $29 won the goods.  Yay!
With that fashion victory tucked away, I am now off for a full day of dog walking, gardening, reviewing the Stephen Alexander Homes house at Fall Homearama 2012 for Hampton Roads Magazine, a little shopping for items my kids need for their current art Challenges at school, and dinner at some friends' house.  Hope your Saturday is similarly full and satisfying! (If interested, read my review of the Stephen Alexander house in the Spring 2012 Homearama here.)