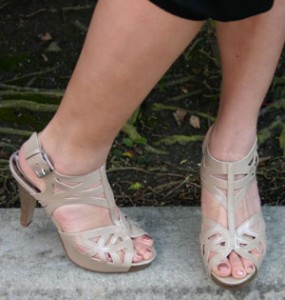 No, I won't be serving these on a platter, blooming or otherwise, but I had to share this exciting find…
I just purchased this sexy pair of vegan platform "Kenji" sandals by Madden Girl in taupe for a mere $47 (that is not me in the photo)!
Don't you think they'll spiff up just abut everything I might wear this summer and even early fall?
If you're thinking, "I could never wear a heel that high," wait!  Until the last few seasons when platforms made a comeback, I couldn't either.  In fact, yesterday at graduation–yes, we have unleashed 400+ more PAHS students on the world (and I hate to see them go!)–several teachers with tired feet at 4 in the afternoon were asking how I could wear the (totally hot) Marc Fischer shoes I had on all day.  The answer is "Platforms, baby!"
If you haven't already, check out Alternative Outfitters Vegan Boutique to fill quite a few of your fashion needs and desires, including these shoes.
Walk lightly on the earth, but leave a big, stylish vegan shoe print!
Photo credit: Alternative Outfitters Vegan Boutique.