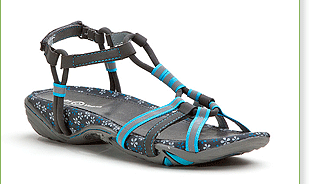 Jeeps are for girls!  Read on…
On Monday, I posted on FB about my 8.5 mile hike with my good gal pal, Katherine Jackson.  But I didn't mention it here, as food was not really the focus.  Getting to and from Lake Drummond in The Dismal Swamp on  a 90+ degree day was!
While I loved our time together, the exercise, and the beautiful lake, I'm not so wild about all of the mosquito/fly bites I came home with on my calves and ankles, though it was my own fault.  While we were slathered in sunscreen, we neglected insect repellant.  At any rate, worse still is my bruised big toenail on my left foot.  I was wearing good shoes, so I'm not sure what happened other than that I had discarded my last pair of footies–holes had appeared in every one–and wore a pair of my husband's athletic socks which I had to kind of "squish" into my shoe because the socks were too big.
Last night, I finally acknowledged a true injury, so I soaked it in epsom salts, rubbed it with alcohol, and iced it this morning.  But it is apparent that I cannot wear closed in athletic shoes, footies that fit or no, until this toe heals, and I walk miles every day with our dogs even when I don't hike.   I REALLY hope I don't lose the nail.
So, I woke up this morning resolved to find a solution made more urgent by the fact that  my beloved cousin, Earl, is coming from Houston on August 8 specifically for day hiking.  Do you ever feel almost "called" to stop in a store where you rarely, if ever, shop, knowing that they will have what you need?  Well, that happened today with Off Broadway Shoes.
Years ago, I purchased my all time favorite summer walking shoes there.  It was one of the designs that resulted from the Nike/Cole Haan partnership.  I wore them for two seasons unti they finally had to be retired.  (In fact, I bought a pair of unworn Nike/Cole Haan slip-ons this summer at a consignment store thinking they would be my go-to summer shoes even though the size was smaller than I normally wear.  Sadly, however, they kill my feet, though they were comfy in the store.)
Though Off Broadway didn't have any Nike/Cole Haans, they did have a brand I wasn't familiar with called J-41 which combines Jeep technology with style, comfort, eco-friendliness, and animal friendliness in their Vegan Collection!  The style I chose, "Hampton," is from that collection.  And they match my sky blue Vespa. 🙂
According to their website–and the shoe box–"J-41™ products are made with 100% recycled and recyclable packaging. All J-41 outsoles are constructed with partially recycled rubber. In this small way we hope to do our part to help save our great outdoors for future generations. Recycle On."
Not only that, but these Jeep designed shoes are said to be trail rated, contain compressed rubber with superior traction and durability, and boast toe and heel bumpers for protection against the elements.  Plus, the Jeep Memory Foam Footbed is removable and contoured to cradle feet.  Sounds good to me.  And look at those cute–but not too cute–little flowers!
I wish I hadn't wrecked my toe, but I think I did the best I could for shoes to baby it while it heals.  If you are similarly on the go, I hope you'll check them out.  You can purchase them online and they have a number of closed-toe styles.
Adventure On!