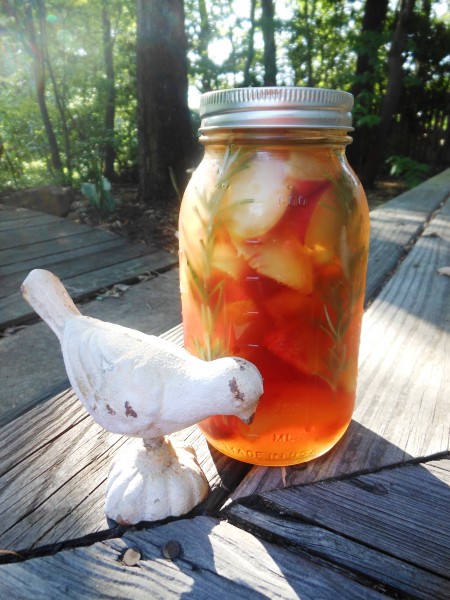 Yield: 1 quart
I think that canned fruits and vegetables are so beautiful, sparkling like jewels under glass.  But, sterilizing jars is  a deal-breaker for me.
So, when I saw this recipe from Robby Melvin in Southern Living, I was all about it.  These quick pickles are "put up" in jars, but no sterilizing is required, as they stay refrigerated.
His paired strawberries and rosemary, honedew and thyme, and peaches and mint, but pair up any fruit or berry and woody herb you choose.
I altered the recipe just a little only because I  didn't have white balsamic vinegar on hand, but did have white balsamic vinegar reduction and white vinegar.  I also upped the vinegar in the vinegar-water ration–I love bold flavors–and I didn't have mint in my herb garden, so I used rosemary with the peaches I purchased at the farmer's market on the way home from yoga yesterday morning.
I doubled my recipe to make 2 jars and took them as gifts to the inaugrual dinner of the Starlight Supper Club last night.  I've always wanted to be in a "supper club," so two friends and our husbands finally started one.  Becky Bump and Reese Lusk set the bar high  with a deliciously inspired menu in a breathtaking setting among treasured friends. More on our wining and dining throughout the year.
Note: you may substitute 1 generous cup white balsamic vinegar for the white vinegar and white balsamic vinegar reduction if you choose.
1 1/2 cups white vinegar
1 1/2 cups water
1/2 cup sugar (I use demerara sugar)
2 tablespoons white balsamic vinegar reduction (I purchase at Kroger)
2 teaspoons sea salt
3 peaches
2 sprigs fresh rosemary
In a 2-quart saucepan, bring vinegar, sugar, water, white balsamic vinegar reduction, and salt to a boil.  Remove from heat and completely cool (about 1 hour).   After about 45 minutes, slice peaches into eighths and place in a 1 quart jar along with rosemary on the sides so that it shows nicely.  Poor cooled pickle brine over the fruit, seal tightly with a lid and refrigerate for 1 hour, at least, but best after 8 to 12.  Keeps about 1 week in the refrigerator.