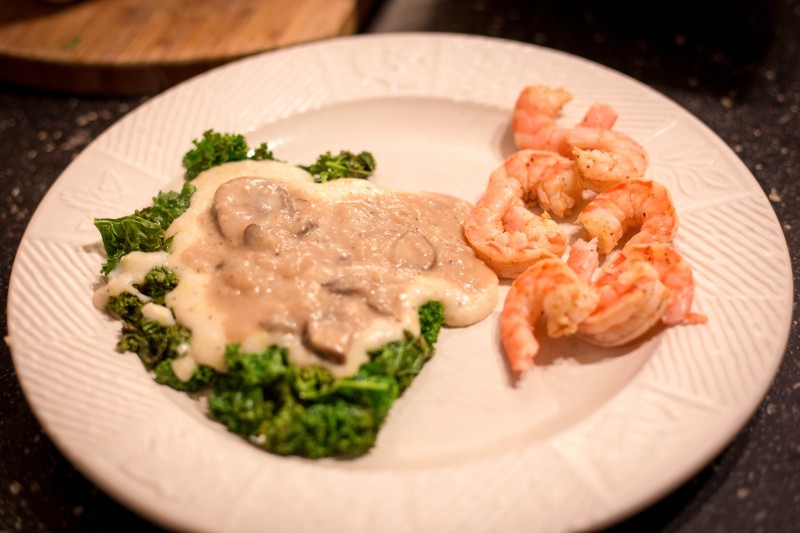 (A sequential installment from Kim Hastings, my photographer friend and, along with her vet husband, owner of Independence Veterinary Hospital, who decided on her own to cook her way through The Blooming Platter Cookbook: A Harvest of Seasonal Vegan Recipes Julie & Julia Style for her omnivorous family as a strategy for more healthy eating.)
[Betsy's note: this is the only time you will see "dead animals," aka the shrimp, on this blog…that is, unless I "kill" one of my mischievious new pups for, oh, say, removing the other arm of my $1,200 vintage sofa…]
I took a huge risk today giving my grocery list for tonight's recipe to my husband to include in his errands.  I chose Grits and Greens with Mushroom Gravy.  First thing out of his mouth was "Kale?!  Why?"  Ok I had to come up with something fast because in our house kale is strictly turtle food for our Russian Tortoise, Desiree.
"Well, first I feel like I need to give it a second chance (I hate it); everyone else seems to love it and it's super cheap."  I felt like that last point would seal the deal.  I waited.  "Why not collards?" he counters.   I pointed out how badly they stink up the house… and we're done!  He's getting the kale.  I thought we were in the clear until he asked what vegetable stock was.  Oh no!!  Thank God I didn't add the nutritional yeast to his list.  I don't even know what that's for!  I'll look that up later.
When he brings the kale in, we both just stand there staring at it.  I'm seriously having second thoughts.  He starts talking about how bitter it is but when I push, he admits that he has never really tried it.  So we both take a tiny bite of a leaf.  "Well it's not bitter", I say.  "True", he says, " but  it tastes very…. vegetable-y."  So we decide, reluctantly, that we will share Desiree's food for tonight's dinner.
To be totally honest, I told my family we were having Shrimp and Grits with Greens and Gravy.  You mention Shrimp and Grits in my house and everyone is on board.  Since I don't cook seafood well, I delegated that to my husband.
First step…grits!  LOVE!!!  I got those started because they take an hour.  Admittedly I have never put milk in grits but I'm following the recipe tonight…sort of.  So I used real milk instead of soy… guilty.   I just didn't think coconut almond milk would taste good and I had no more room in the fridge for a third type of milk.  Oh, and since I didn't get the nutritional yeast, I used Parmesan cheese.
Next step was mushroom gravy.  Easy enough until I saw that I had to get the dreaded food processor out…ugh! But I had no choice here.  It's the only thing that will make white beans look like gravy.  I must confess that I had to lie and deceive a bit during this step.  There were two ingredients, rosemary and sherry, that, if my family knew I was using them, would probably head off to Taco Bell instead of show up to dinner.  So, when no one was looking, I quickly ran out and snipped a few sprigs of frozen rosemary from my garden.  (I only keep rosemary because it's pretty).  Then I dusted off  the bottle of sherry and set it on the counter beside the twigs of rosemary.
Of course this is the moment my husband comes in and announces that he will start the shrimp now. Are you kidding me!  It was pretty comical then.  I'm trying to stand in front of the two offensive ingredients to block them from his view and convince him that I just need 10 more minutes. I begin analyzing the minutes required to bring everything together at the end. Men understand and respond well to this type of reasoning.  Thankfully it worked!  He left and I got the white beans and all the ingredients processed together into a beautiful gravy. Oh, and one more confession…I only used 1/8 teaspoon of rosemary instead of the 2 tablespoons arguing that mine was not truly fresh but very dry looking. Plus I only cussed out the food processor twice.  That's a record.
Now it's time to get the kale started.  I heated the oil in the wok, threw the stemmed and cut kale leaves in, and stirred them around; but I admit I had no clue what I was doing.  They ended up really chewy so I don't think I cooked them enough, but I was really struggling with the fine line between green and bright green to test the doneness.
The final product was beautiful!  The grits tasted amazing and my guys never knew that the "gravy" was made of beans.  We plated it as we were instructed in the recipe with the greens first then the grits and gravy.  However my kale was so bad that we were soon scraping the grits and gravy off the greens and moving it over to cover the shrimp.  My son was the only one to eat the kale and I thought he was just being polite until he got up for a second helping of it.  Bless his heart!  Overall, thumbs up for the best shrimp and grits we have ever had!
~Kim Howard Hastings