There's nothing wrong with a big pot of–if you'll pardon the pun–garden variety black-eyed peas, or Hoppin' John, for that matter.  Tried and true.
But if you're looking for something a little different to do with your blackeyed peas, making them into more of a meal, try this trifecta of flavor from The Blooming Platter, all of which elevate the humble pea to a glorious meal.
First up is a whimsical vegan take on crabcakes and tartar sauce from my Blooming Platter Cookbook, generously published by One Green Planet.  It hardly gets more festive or tasty than this.  Look at all of that red and green yumminess!:  Vegan Black-eyed Pea and Spinach Cakes with Sun Dried Tomato Tartar Sauce.
Next up is a little kicked up southern comfort and colorful whole grain extravaganza including good luck and good-for-you greens: Vegan Blackeyed Pea Pilaf Over Collards with Green Tomato Salsa and Roasted Pecans.
Finally is another "southern" dish–southern Indian!  The title is a mouthful, so to speak, but I wanted to reference all of the ingredients that make this dish addicting:  Vegan "Southern" Indian Cilantro-Scented Cardamom-Coconut Cream Blackeyed Peas, Peppers & Spinach.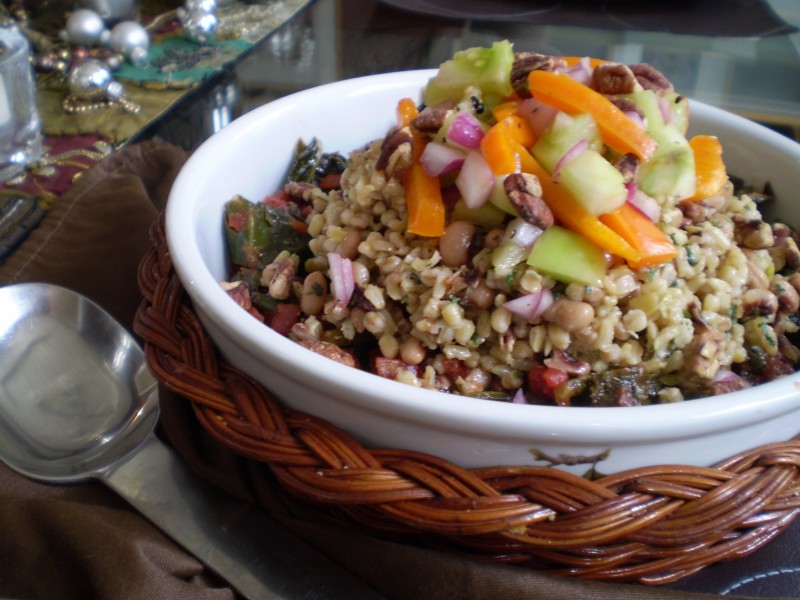 Happy New Year!